LGBTQ+ activists make out in front of Trump Tower in protest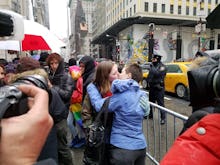 A group of 40 to 50 activists staged a "LGBTQ+ Make Out At Trump Tower" event on Sunday in New York, marching from Columbus Circle to President Donald Trump's Manhattan base of operations to protest his administration and stand in solidarity with other groups fighting his policies.
Attendance was smaller than expected, likely due to freezing rain and temperatures in the low 30s. But while the mass makeout session — billed by organizers on Facebook as "an intersectional celebration and amplification of marginalized voices" — did not materialize in full force, activists nonetheless staged individual makeout sessions just across the intersection from Trump Tower.
Some activists made the trip in full costume, including Mike Hisey. In an interview with Mic, Hisey said he had been fired two years ago as a result of his HIV-positive status, adding that a repeal of the Affordable Care Act would leave him in "a lot of trouble." Hisey wore a homemade costume in imitation of senior Trump adviser Kellyanne Conway's inauguration outfit and carried a mobile kissing booth emblazoned with the words "Alt-Fact Kelly."
An attendee who said her name was Nicole (left) told Mic that while Trump's administration seems to have backed off from directly attacking LGBTQ+ rights so far, "clearly with his choice of vice president [Mike Pence] and Cabinet," she doesn't expect the president to be an ally of the community.
Angy Shavit quipped, "Trump has made me a very creative person." She said she opposed GOP proposals to defund Planned Parenthood and added that if Trump's administration waged furthered attacks on the LGBTQ+ community, the movement would "do everything in our power to resist" it.
Here are some other shots of the event: