Grammys 2017: Singer Joy Villa wore a Make America Great Again dress — and people are not feeling it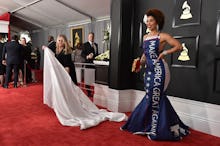 Before Sunday night's Grammys red carpet, you probably didn't know who the singer Joy Villa was. But because of a dress already making waves on Twitter, unfortunately now you do. 
Joy Villa, also known as Princess Joy Villa, arrived at the 2017 Grammy Awards wearing a Make America Great Again dress. 
When she first arrived, you wouldn't have known; she came encased in a white cape, holding a purse that looks like a heart. 
Innocent, yes? 
But then in a dramatic reveal, she ripped it off and let everyone see her blue dress, emblazoned with Donald Trump's campaign slogan: Make America Great Again. 
The dress's train clearly reads, "Trump." 
On her Instagram before the show, she posted a message to her fans that wasn't the least bit political. 
"My whole artistic platform is about love!" she wrote. "I couldn't be where I am today without the love and tenderness of those beautiful supporters and friends around me. Thank you. I hope you enjoy tonight's @grammysawards2017 and remember to forget your problems and focus on your future!" 
But of course, on Twitter, people really didn't have many lovely things to say about Villa's gown. In fact, it was utterly divisive. 
In a night that already felt destined to get political, Joy Villa just made absolutely sure that it will.