Cardi B calls out the male race: "I want men to stop being afraid to wear what they wanna wear"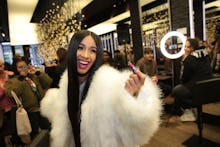 It's a chilly, pedestrian Thursday afternoon at the Mac store in lower Manhattan as the city is relentlessly blanketed in snow. The streets are expectedly muted, but inside is warm and vibrating with a nervous pulse as ravenous Cardi B fans line the entire store. 
The rapper, reality TV star and social media phenomenon is arriving soon for a meet-and-greet event she is co-hosting with Mac cosmetics and her friend and collaborator, designer Rio Uribe of Gypsy Sport. 
Her devotees stand in a single line patiently texting and tweeting, waiting to get a glimpse of their patron saint of social media. 
Then Cardi enters. Her hit song "Foreva" cues immediately over the speakers as she saunters through the entrance wearing a white fur and matching form-fitting white pants paired with Gucci mid-heel loafers. It's a far cry from the bodysuits and stripper heel looks that she's become known for. Think more Liberace than Lil' Kim.  
Cardi's meteoric rise to stardom is nothing short of magical and there's no arguing that her footprint is all over the popular culture landscape these days. With 6 million Instagram followers, two seasons under her belt on the insanely popular Love & Hip Hop reality franchise and a newly released sophomore mixtape titled "Gangsta Bitch Music Vol 2", she's cultivated a loyal fanbase. 
This is no small feat in an age of fast music, fashion and information. Whether it is her buzzword-laden appearances on LHH, her self-recorded improv monologues that spread like wildfire on social media, it seems the more Cardi gives of herself, the more ravenous her fans become. 
Her personal style has developed over time to be something unique and unmistakably Cardi. She's in her element pairing $20 dresses from Fordham Road in the Bronx with $1,200 Gucci heels. There's something free and inclusive about her approach to fashion. 
Her mix of high/low fashion gives the world glimpse of her Bronx roots, but now she's grown into a budding star in the fashion arena, making multiple appearances at New York Fashion week this season.
While her contemporaries are busy hocking namesake clothing lines, waist trainers or parody pop songs that sound more like ringtones than actual songs, Cardi keeps her eyes on something much larger.  Mic caught up with Cardi backstage at the event to get the lowdown on music, fashion and rumored new romance. 
Mic: First off, your style is one of a kind. The glow-up is real, but you're also staying true to your Bronx roots by mixing affordable "fast fashion" pieces with high-end staples like Gucci. Can you speak about your inspirations?
Cardi B: I like to wear a lot of new designers. Gypsy Sport, Angel Brinks, and These Pink Lips are some of my favorites. I like high-end things, but most of the time the stuff I see from the new designers is more poppin' than the shit I see in the stores. I always want to give an opportunity to new designers, like Gypsy, because their shit is amazing. I know a lot of men in the hood, they see the things in the magazines or from the runways, and they think it's hot but don't think people will understand it if they wear it. I want men to stop being afraid to wear what they wanna wear.
Lil' Kim seems like an obvious one, but do you have any personal style icons that might surprise people?
CB: I like Lil' Kim, Lady Gaga, and Katy Perry. And, who else? No body!
Your music is lively and your personality definitely permeates each song, but the real fun is actually watching you do your thing. What plans do you have for the visuals for your new album?
CB: "Lick" is my first single off the album, so we'll definitely be doing a video for it. There's going to be a feature for that also, but I don't want to talk about it yet. For the visuals, I'm going to try to transition hip hop style into something outside the box, you know what I'm sayin'? People are already expecting me to do the big furs, cars and everything. I really admire Lady Gaga's fashion, so I want something different like that. I want "Lick" to be so fucking different. I'm a very different person, the left side of my brain is very creative, son!
Is there any music you're listening to at the moment?
CB: The Migos album just came out, that's hot. I am a fan of music in general. 
Speaking of Migos, you were recently spotted leaving the Superbowl with Offset...
CB: [Smiles suspiciously] The Migos album just came out, go buy it!
You are arguably one of the biggest stars of the Love & Hip Hop universe, though you recently announced the current season 7 will be your last. Is the reality TV thing something you're leaning away from in the future?
CB: Yeah I think so. Sometimes I feel like my Instagram is enough. I wouldn't mind doing reality in the future, but it would need to be my way, something I produce. I wouldn't want to do Love & Hip Hop again. Reality, you know, is not always about drama. If I could do reality, and put my family on, I would. But I have a lot deals on the table right now, different networks. I just did a role on Being Mary Jane. It gave me an idea of what it's like to work on a larger production. I'm interested in doing a lot of new things, as long as there's shmoney involved.  
She lets out her signature giggle, runs her bejeweled nails through her hair one last time while smacking her lips. As she exits, the flashbulbs outside the room reignite as screams of "Cardi, washpoppin'?" fill the air.