Katy Perry mocks Britney Spears on Grammys red carpet — and Twitter is not having it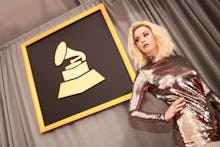 Make fun of Britney Spears at your own peril: The Britney Army is always ready to pounce.
On Sunday's red carpet at the Grammys, Katy Perry chose to reference Spears' public breakdown nearly a decade ago in a joke about her changing hair colors and styles. "The only thing left to do is shave my head, which I'm really saving for a public breakdown," the singer said.
During her 2008 breakdown, Spears infamously shaved her own head, causing a flurry of concern about her mental health. The reaction to the reference was, to put it mildly, fast and furious.
The backlash to the quip comes at an unfortunate time for Perry, who just released her first new piece of music since her last album, Prism (outside of an Olympics-related single, "Rise," last year). "Chained to the Rhythm," her new single, is going to need all the positive press it can get, and inspiring the wrath of Spears' fans is likely not what she was hoping to garner.