What happened during Adele's George Michael Grammy tribute? Details on her glitch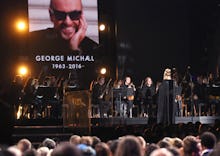 As 2016 came to a close, the world learned on Christmas Day that one more star had fallen. At the end a year in which we lost a mind-numbing amount of musical talent, George Michael, gay icon and songwriter, died from "inconclusive" causes. Two months later, he was honored onstage at the Grammys by one of the night's biggest winners, Adele, who re-imagined his "Fastlove" as a somber ballad.
She started her performance backed by a string section, singing the words in a low voice, before an error stopped her in her tracks. She had started her rendition of the performance off-key and stopped the music. "I fucked up," she said. "I can't do it again like last year," referring to 2016's "All I Ask," which was plagued by technical difficulties.
"I'm sorry for my mic and I'm sorry for swearing," Adele said, interrupting herself. "I can't mess this up for him." She started again and made it through, bringing the audience to a tearful standing ovation.
Adele is coming off an already huge night. She opened the show with a typically jaw-dropping performance of "Hello" and has so far taken home three Grammys for best pop vocal album, best pop solo performance and song of the year. She still has two major categories to go.
Watch the full performance via Billboard here.