Laverne Cox asks people to Google transgender teen Gavin Grimm during 2017 Grammys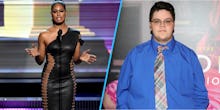 Laverne Cox just brought transgender rights and the Supreme Court to the Grammys stage.
During the Sunday Grammys telecast, the transgender actress and star of Orange Is the New Black told audiences to google Gavin Grimm and to tweet the hashtag #IStandWithGavin.
Grimm is at the center of what could be a historic Supreme Court decision about transgender rights, specifically the use of gender-specific restrooms by transgender people.
Grimm's road to the Supreme Court began in November 2014, when the principal at Gloucester High School allowed the transgender teen to use the men's restroom at his high school. Prior to that, Grimm was forced to use the nurse's office, a separate bathroom from all the other students.
Eventually, Grimm sued the Gloucester County School Board and won his case in the U.S. Court of Appeals in April 2016. However, on Aug. 3, the Supreme Court put a temporary injunction on the court's decision while it mulled whether or not to take the case. In October, the Supreme Court decided to hear the case, but in the meantime, Grimm is unable to use the men's restroom and will likely graduate without having the ability to do so.
In an earlier interview with Mic, Joshua Block, a senior staff attorney at the ACLU who has been working on Grimm's case, said he hoped the Supreme Court would not take Grimm's case. With time, he explained, justices could learn more about transgender rights and lower courts could make more rulings on the matter.
"Justices' opinions are shaped along with the rest of the country, and time is on our side," he said.
Currently, Americans are evenly split on whether transgender people should be allowed to use the bathroom that matches their gender identity. And in states like North Carolina, laws like HB2, which bans people from using bathrooms that are not for their biological sex, threaten transgender individuals' legal right to use public bathrooms in peace.
Cox has used her platform as an actress to make several statements about transgender rights. Last fall, she covered Variety and spoke about anti-trans violence and has also advocated for transgender Americans to be counted in the U.S. census.