Chance the Rapper took the 2017 Grammys to church with an uplifting 'Coloring Book' medley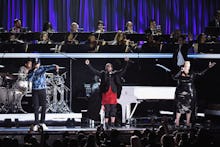 Chance the Rapper has been your favorite rapper's favorite rapper for half a decade, but Sunday at the 2017 Grammys he became far more than that. After winning two awards — one for best rap performance and one for best new artist — he took the stage and showed audiences exactly why no one else was fit to take home those awards. 
Alongside gospel singer Kirk Franklin and Tamela Mann, Chance ran through his Coloring Book hits "How Great," "All We Got" and "No Problem," backed by a full gospel choir. It was an invigorating moment for an award show dragging into its third hour.
The performance is a capstone on a career-defining year for Chance. Since releasing his third mixtape Coloring Book in May 2016, Chance the Rapper has fundamentally changed how the music industry approaches independent music in several ways. In May, he co-signed a petition encouraging the Grammys to accept mixtapes and online-only albums for consideration. In July, the Grammys changed their rules. They insisted it was not directly tied to his petition, though Chance's rise likely added some urgency to their decision-making.
In August, Chance experimented with new ways for fans to request local radio stations to play independent music, via his Rapper Radio initiative. Right now, the online system only works for two Chance songs, "No Problem" and "Summer Friends." However, the way the rapper's been talking about it on Twitter, it seems he wants to expand it.
With the momentum coming out of these awards, having won three — including best new artist, best rap performance for "No Problem" and best rap album for Coloring Book, the first ever for a streaming-only album — he'll likely be able to find a way to do that and more. 
Watch Chance the Rapper's high-energy medley below.