Adele says she can't accept album of the year award over Beyoncé, so she split it in half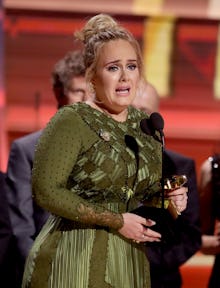 Adele is a huge Beyoncé fan. And she used her platform on the Grammys stage to make it known.
While accepting the award for album of the year for her 2015 album 25, Adele became overcome with emotion and said she couldn't "possibly accept" the award. The British chanteuse then launched into an at-length appreciation of Beyoncé's album Lemonade, which competed against 25 in the same category.
"I'm very humbled and I'm very grateful and gracious, but my artist of my life is Beyoncé, and this album for me, the Lemonade album, was just so monumental, Beyoncé. It was so monumental and so well thought out and so beautiful and soul-baring, and we all got to see another side to you that you don't always let us see and we appreciate that. And all us artists here adore you. You are our light. And the way that you made me and my friends feel, the way that you made my black friends feel is empowering and you make them stand up for themselves. And I love you, I always have."
Adele, wearing a lemon pin that was an homage to her favorite artist, went on to thank her family and her manager — and walk away with the award.
The moment was reminiscent of the graciousness that Adele's idol, Beyoncé, has shown over the years at awards shows. In 2009, after the infamous moment where Kanye West stormed the VMA stage during Taylor Swift's acceptance speech for best female video for "You Belong With Me," Beyoncé allowed Swift to speak uninterrupted during her acceptance speech for video of the year.
Let it be known, even in the heart of album of the year winner Adele, Beyoncé deserves the prize. Backstage in the press room, Adele said a piece of her died when Lemonade lost album of the year, according to St. Louis Post-Dispatch writer Kevin C. Johnson on Twitter. Adele herself had voted for Lemonade.
To show how much Adele loves Beyoncé, she broke the album of the year Grammy award in half and shared the golden gramophone Mean Girls-style with Beyoncé.
While Adele can boast a shiny new trophy, she also walked away from her speech with something even more coveted: an invite to Black Twitter's collective cookout.
Feb. 13, 12:42 a.m.: This article has been updated.