Oroville Dam: Tens of thousands evacuated in California as spillway threatens to flood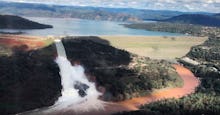 Tens of thousands of people received orders to evacuate their Northern California homes on Sunday after a leak in the Oroville Dam spillway threatened to flood nearby towns.
The spillway exists to contain overflow from the dam, which is the second-largest reservoir in the state, according to the Los Angeles Times. The leak poses the risk of floodwaters surging downhill into the Feather River and potentially overwhelming Oroville and its surrounding towns.
According to CNN, the danger arose after a heavy winter rainfall in the northern part of California filled Lake Oroville to the brim. And although the dam has two spillways — one primary and one emergency — to protect against flooding, both face major structural issues.
The primary spillway has been damaged by erosion, which has only gotten worse over the past several days. And, as it turns out, the emergency spillway has too — which, CNN notes, is particularly unlucky, since it has never been needed in the 48 years of its existence until now.
California officials learned of the emergency spillway's damage around 3 p.m. Sunday, just as water began sloshing into it. Evacuation orders began cropping up shortly afterward, warning that a "hazardous situation" was developing that could "result in an uncontrolled release of flood waters from Lake Oroville."
"There was significant concern that [the hole] would compromise the integrity of the spillway, resulting in a substantial release of water," Butte County Sheriff Kory L. Honea told the Los Angeles. Times. "We had to make a very critical and difficult decision to initiate the evacuation of the Oroville area." 
California Gov. Jerry Brown said in a statement that the circumstances surrounding the dam were "complex and changing."
"I want to thank local and state law enforcement for leading evacuation efforts and doing their part to keep residents safe," he said. "The state is directing all necessary personnel and resources to deal with this very serious situation." 
According to CNN, officials will continue to monitor the dam's structural integrity into Monday.