U.S. Tennis Association accidentally played the Nazi-era German national anthem at Fed Cup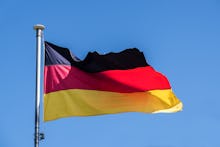 Before the start of a replay match in the Fed Cup women's tournament in Maui, Hawaii, on Saturday, the U.S. Tennis Association played the Nazi-era version of the German national anthem — an oversight that immediately drew criticism from the German team, Reuters reported.
CNN reported that the USTA released a statement apologizing for the performance, but not before German tennis star Andrea Petkovic told reporters the song choice was "the epitome of ignorance." Reuters noted that Petkovic added: "I've never felt more disrespected in my whole life, let alone in Fed Cup." 
Her team coach, Barbara Ritter, was also deeply mortified, calling the mistake "an absolute scandal, a disrespectful incident and inexcusable," according to Reuters.
The German national anthem "Das Deutschlandlied," written in 1841 and adopted as the national anthem in 1922, typically doesn't include the first stanza, "Deutschland, Deutschland über alles, über alles in der Welt" (Germany, Germany, above all else, above all else in the world), due to its nationalist theme and strong ties to Nazi Germany. The BBC reported that the first verse was dropped after World War II and instead, performances of the song begin with the third verse, "Unity and justice and freedom."
The U.S.T.A. released a statement apologizing for the error and has been tweeting apologies to outraged fans, stating it takes "full responsibility for this incident" and that "steps have been taken to make sure this doesn't happen again."
CNN reported that during former opera singer Will Kimble's performance of "Das Deutschlandlied," both the crowd and the German team can be seen singing different lyrics from Kimble, with members of the audience and the German team singing loud enough to be heard over video of the performance.
Reuters reported that Petkovic had considered walking off the court before her match against U.S. player Alison Riske, which Petkovic ultimately lost.