Did Adele break her Grammy album of the year award in half to share with Beyoncé? This is the truth.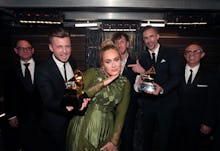 After Adele won the Grammy on Sunday night for album of the year, the singer took to the stage and gave an acceptance speech praising Beyoncé. 
Adele, who won for 25, went on to say how much of an inspiration Beyoncé is to her. She exclaimed that she couldn't accept the award and reduced Queen Bey to tears. Adele ultimately walked off the stage with the award, but photos surfaced shortly after of the gold gramophone in two pieces. Many speculated that Adele broke the award to share it with Beyoncé.  
It looked like Adele was about to pull a Cady Heron from Mean Girls and share the prize with her fellow nominee. However, it appears as if the "Hello" singer accidentally broke her Grammy during her emotional speech.
When she went backstage to the press room to take photos and share a moment with host James Corden, Adele was given a new Grammy to replace the one she had broken. 
"I'm very humbled and I'm very grateful and gracious, but my artist of my life is Beyoncé, and this album for me, the Lemonade album, was just so monumental," Adele said in her speech. She elaborated on her thoughts while backstage, continuing to praise Beyoncé and made it even more clear Lemonade deserved album of the year. 
"And the reason I felt the need to say something is because my album of the year is Lemonade," she said. "[Beyoncé] is my icon of my whole life... I felt like it was her time to win... What the f— does she have to do to win album of the year? That's how I feel."