Christian Siriano, Gypsy Sport and Chromat are the new blueprint for diversity at NYFW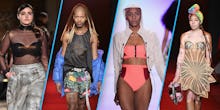 Try as the fashion world might, at New York Fashion Week, thin white cisgender models are still the norm. But things are quickly changing, and three shows at NYFW have demonstrated just that. 
First, there was Chromat, which showed on Friday afternoon. As in the past, Chromat's show featured models of various sizes, shapes, colors and gender identities. This time, they walked the runway in athletic wear that included inflatables. 
But somehow the show felt more pressing than usual. 
The models were, whether Chromat designer Becca McCharen-Tran intended this or not, dressed like superheroes in the midst of a crisis, wrapped in inflatables like life jackets, posing as a united front of diverse people determined to survive. 
"I feel like we're in a moment where we need to stand together more than ever," McCharen-Tran told Vogue. 
And backstage, a sign hung that read: "You are now a #ChromatBabe. Walk fast powerful strong. Women taking over the world!" 
For the transgender models included in Chromat's show, like Aurel Haize Odogbo, Maya Monès and Leyna Bloom, that mission statement matters. 
"Society threw shame to [trans women], and now we're able to live and breath and just be ourselves — be alive, be beautiful and know that we're not just sex workers," Bloom told Vogue. "We have dreams, we sleep, we eat, we're CEOs, we're part of every community around the world... Things are going to be a little bit different. It's going to get messy. You can either love it or hate it but at the end of the day you just have to respect it." 
Christian Siriano's show on Saturday also amped up this kind of intersectional diversity.
Much like Chromat, models of different colors, shapes and sizes modeled his luxe gowns and suits. 
Siriano also brought in models of different ages for his show, like Alek Wek, who's 39, and Karolina Kurkova, who's 32. Believe it or not, that's pretty unprecedented as well. 
To enforce this idea that Siriano knows that no one person (or kind of model) is better or more valued than the other, he sent out one model during his show in a "People Are People" T-shirt. 
The shirt's currently on sale, with all profits going towards the ACLU. 
Finally, on Sunday, there was the Gypsy Sport show, which was all about boosting and celebrating diversity as well. Models with vitiligo and albinism, and models of various sizes, shapes, colors and identities walked the runway in Gypsy Sport designer Rio Uribe's eclectic designs. 
Much like at Siriano and Chromat, the diversity came with a message. 
In an interview with Mic before his show, Uribe noted that his show would be about inclusion and the power of standing up together now. 
"The outside is changing because people are realize wow we're in a fucked up world, we have this president who doesn't give a shit about us, and we have to stick together now," Uribe said. "So I feel like now, more than anything, Gypsy Sport is about sticking together, unity, inclusion, rolling harder, strength in numbers, fuck the government. If I could put that on my T-shirts, maybe I would. Maybe I will actually."
Immediately before the models hit the runway, Uribe addressed the crowd: 
To those who can hear me, be optimistic. There's a cloud of hate that is now upon [us] but is passing: the hate of men who fear what we can do when we get together. The hate of men will pass, and dictators die, and the power they took from the people will return to the people. It's people [who] have the power to make this life free and beautiful, to make this life a wonderful adventure.
Clearly, these shows are coming at a time marginalized groups — whether we're talking about women of color or transgender people or immigrants — are being targeted. 
But with shows like Chromat and Christian Siriano and Gypsy Sport, it's obvious that models and people and designers like this aren't going away anytime soon. In fact, together at once, they're all the more powerful and far too valuable to fade away now.