Burberry confused actors Riz Ahmed and Dev Patel at the BAFTAs on Twitter and people are not happy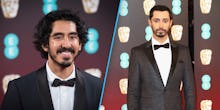 Burberry had the pleasure of dressing two dashing young actors at the British Academy of Film and Television Arts awards, but when the brand posted on Twitter to celebrate, things went horribly awry. 
On Sunday night, Burberry proudly tweeted out that actor Dev Patel was wearing a custom navy suit from the brand on the BAFTA red carpet. The only problem? The image the brand posted with the statement wasn't of Dev Patel. 
It was Riz Ahmed. 
The brand quickly amended its mistake, reposting the tweet with a correct image of Dev Patel, and tweeting out another post for Ahmed, whom they also dressed. 
But it was too late. 
Many Twitter users were already upset, accusing the brand of not being able to differentiate between Patel, whose parents are Indian, and Ahmed, whose parents are Pakistani. 
Of course all social media employees at Burberry (and elsewhere) are human, but incidents like this, with companies confusing two people of color, are all too common. 
Last February during the Oscars, the website Total Beauty tweeted out a picture of Whoopi Goldberg with the caption: "We had no idea Oprah was tatted, and we love it." 
And during the Emmys in 2016, Terrence Howard got mistaken for Cuba Gooding Jr. on Twitter by the Television Academy. 
So what gives? Do companies like this need to work harder to identify celebrities? Pay more attention to each and every tweet? 
According to a Burberry representative, the brand has apologized to both Ahmed and Patel (which is par for the course for many companies after this kind of flub), and they're also vowing to re-evaluate its tweeting process, which hopefully stops this from ever happening again. 
"We apologize unreservedly for the incorrectly titled pictures of Dev Patel and Riz Ahmed posted late last night," a Burberry representative said. "This was a mistake that should not have happened and was corrected immediately. We have apologized directly to Dev and Riz. We are checking our processes to make sure this doesn't happen again."