Public School debuts powerful "Make America New York" looks on the New York Fashion Week runway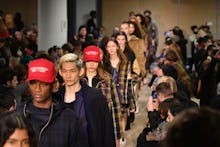 New York Fashion Week had a distinctly political tinge even before a single model had hit the runway. 
In the days leading up to American fashion's biggest stage, the Council of Fashion Designers of America (CFDA) announced they they had teamed up with Planned Parenthood to produce and distribute bright pink pins that read "Fashion stands with Planned Parenthood."
Fashion has long been a political art form, so it only makes sense that politics has made its way onto the runway. What seems unprecedented, however, is the vast amount of politically charged statements made through design on this season's runway.
We first got a taste of this during Paris Menswear Fashion Week, when Balenciaga fashioned models in Bernie Sanders-inspired looks. 
The latest examples comes from Dao-Yi Chow and Maxwell Osborne's brand Public School, which walked models down the runway wearing hats and sweatshirts that read "Make America New York," a nod to the melting pot of races, genders and creeds seen throughout the city.
Bu it wasn't just on the runway. Leading up to the show, designer Dao-Yi Chow was seen wearing one of the hats during rehearsal.
Meanwhile, models backstage at the show, like Aqua Parios, made statements of their own.
So far at New York Fashion Week, which kicked off Thursday, we've seen political statements abound. 
At Christian Siriano's show, model Jasmine Poulton wore a shirt inscribed "People are people," the proceeds of which are being donated to the American Civil Liberties Union. Designer Thakoon as well as the models walking Tommy Hilfiger's runway (which technically took place in LA, and included his muse, Gigi Hadid) all rocked white bandanas as part of an initiative started by Business of Fashion to promote "human unity and inclusiveness amidst growing uncertainty and a dangerous narrative peddling division." Designer Prabal Gurung's models wore custom t-shirts with statements like "3 million," "The future is female", "I count," "She persisted" and more scrawled across their bodies. Backstage at LRS's runway show, models wore underwear that prominently read "No ban, no wall."
Despite all the protests and activism that has shaken this country since his inauguration, it seems that Donald Trump is here to stay. It remains to be seen if the fashion world's willingness to fight back is too.