What is "Netflix cheating"? The streaming trend that is taking over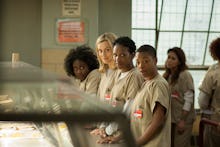 Have you ever snuck in an episode of you and your partner's favorite show while they were away? Sure, you agreed to watch all of Narcos together, but you're desperate to know what happens next. No one will be the wiser.
Unfortunately for you, Netflix is all the wiser. In a new survey the streaming service released Monday, it's found that "Netflix cheating" — the act of watching without a partner's knowledge — is on the rise. In fact, nearly half of all couples that stream shows together have admitted to it.
Across the globe, Netflix users are watching episodes ahead of their partners on shows like Orange Is the New Black, House of Cards and Stranger Things. In the U.S. specifically, Netflix says the show most often used for streaming infidelity is The Walking Dead.
When did Netflix and Chill become Netflix and Cheat? According to Netflix's survey, it's rarely an intentional act: 80% of professed cheaters don't plan on watching their shows without their partners. It's just too tempting.
There are many different kinds of cheaters, from serial cheaters to those who watch shows while their partner is out of town. Most interestingly, 27% of users admit to cheating while their partner is sleeping. (In not-at-all-shocking news, men Netflix cheat more than women.)
Netflix queried over 30,000 users for this survey, across 29 countries. So if you're a Netflix cheater, fear not: You're not alone.