'Nier: Automata' Release Date PS4 and PC: Xbox One launch is still a mystery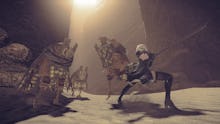 2017 is just barely getting started, but it's already shaping up to be an incredible year for big, open-world action games. As if you weren't already overwhelmed by the prospect of playing Mass Effect: Andromeda, Legend of Zelda: Breath of the Wild and Horizon Zero Dawn, there's another game that looks like a total standout: Nier: Automata, a Japanese action/role-playing game that puts you in control of a badass robot woman wielding a giant sword.
Here's everything you need to know about the upcoming release of Nier: Automata.
Nier: Automata release date for PS4, PC and Xbox One
Nier: Automata will be available March 7 for PlayStation 4 and PC in North America. It will not be coming to Xbox One at launch, but Square Enix will consider bringing it to Xbox One later if it sells well on PS4 and PC, according to Game Rant.
Nier: Automata Trailer
To hold you over until March 7, here's the latest trailer for Nier: Automata. You can also download a free demo on PS4.
More gaming news and updates
For more gaming news, check out the latest from Mic. Here's the most up-to-date information on the Pokémon Go Valentine's Day event, a story about Steve Bannon's history as a backer for a shady World of Warcraft gold farming operation, tips and tricks for League of Legends' Blood Moon event mode, and an opinion piece on whether the Overwatch character Mercy needs a drastic rework.