This is why Adele started over on George Michael's Grammy tribute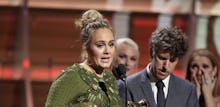 The 2017 Grammy Awards were an eventful night for Adele, who, after opening the awards ceremony, won five awards. But the singer-songwriter did experience an unexpected moment during her tribute to icon George Michael, who died on Dec. 25 at the age of 53. After beginning her performance of Michael's 1996 hit,  "Fastlove," Adele abruptly stopped her performance and started over. 
"I fucked up," she said after stopping her performance. "I can't do it again like last year... I'm sorry for my mic and I'm sorry for swearing. I can't mess this up for him." 
Adele was apparently determined not to repeat the mishaps that occurred during the 2016 Grammys, when her performance of "All I Ask" was marred by technical difficulties. 
She restarted "Fastlove" and gave a performance that moved the audience to a standing ovation. The British singer-songwriter also received an outpouring of support on social media before discussing the performance in the Grammys press room. 
"I was devastated by that, and my rehearsal — I did have a shaky rehearsal today," she said, according to People. "But I have been working very hard on this tribute for him, every day."
"I really do apologize for swearing," Adele said of her decision to begin again when she accepted the award for song of the year. "George Michael, I love him. He means a lot to me, so I'm really sorry if I offended anyone anywhere."
Adele walked away from the awards with trophies for album of the year and best pop vocal album for 25. Her song "Hello" earned awards for record of the year, song of the year and best pop solo performance. 
Watch Adele's tribute to George Michael here, via Slate.
Mic has ongoing Grammys coverage. Please follow our main Grammys hub.