'The Great Wall' Movie Reviews: Here's what critics have to say about Matt Damon's film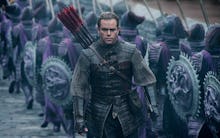 Matt Damon's upcoming movie, The Great Wall, is a historical fantasy about a group of heroes who come together to make a stand for one of the world's most historical structures. The reviews are starting to come in for the Damon epic and they are mixed. Critics have called it uninteresting and lacking director Yimou Zhang's signature passion.
The movie has faced a lot of backlash with accusations of whitewashing. Damon previously addressed the accusations over the fact that he was cast instead of a Chinese actor to play the role, telling reporters that this is not a case of whitewashing. 
"It's a historical fantasy and I didn't take a role away from a Chinese actor... It wasn't altered because of me in any way," Damon said in an interview with the Associated Press. The actor has spoken out against the accusations several times, telling Reuters: "When I think of 'whitewashing' I think Chuck Connors playing Geronimo, that's whitewashing and that's unacceptable."
We've collected some of the reviews so far for The Great Wall. Here is what critics are saying:
Maggie Lee, Variety:
Zhang Yimou capably gives ... 'The Great Wall' the look and feel of a Hollywood blockbuster, but his signature visual dazzle, his gift for depicting delicate relationships and throbbing passions are trampled by dead-serious epic aspirations.
Mark Keizer, Alt Film Guide:
['The Great Wall'] doesn't prove how much China can spend on a movie, it proves how much China can waste on one.
Clarence Tsui, The Hollywood Reporter:
'The Great Wall' is easily the least interesting and involving blockbuster of the respective careers of both its director and star.
The film has received some positive reviews as well, with some critics calling it incredibly lavish and a great spectacle:
Rashid Irani, Hindustan Times:
Lavish colour-coded costumes, impeccable production design and nifty special effects make it eminently watchable, thanks in part to cinematographers Zhao Xiaoding and Stuart-Dryburg and the New Zealand-based Weta Workshop.
Mahmoud Mahdy, FilmGamed:
An epic spectacle of warfare, action sequences, inventive weaponry and fantasy mixed with Class-A cinematography and utilisation of visual effects. The visual experience of veteran director Zhang Yimou can be described as unique, creative and very smart
Lisa Nesselson, Screen Daily:
A battle sequence is never far away and motivations remain credible within the parameters of popcorn-movie silliness, played straight.
You can see for yourself when The Great Wall is released on Friday, Feb. 17.