New Hampshire elections chief wants to see the receipts on Trump's voter fraud claims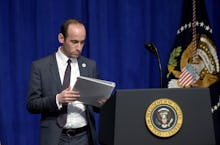 President Donald Trump has been trumpeting the unverified claim that "buses" of Massachusetts residents headed to New Hampshire to cast fraudulent votes in November.
On the Sunday talk shows, Trump senior policy adviser Stephen Miller leaned into the boss's narrative — without providing a shred of evidence. Miller tangled with George Stephanopoulos of ABC's This Week, saying he knew all about the "real" and "serious" problem of Granite State voter fraud, but finally demurring, "This morning, on this show, is not the venue for me to lay out all the evidence."
New Hampshire Deputy Secretary of State David Scanlan has a simple message for the Trump administration on that: "Got proof? Hand it over."
"If the Trump administration has evidence that supports their claims, they should submit that to the New Hampshire attorney general's office immediately," Scanlan said in a phone interview Monday.
"I believe most voters in New Hampshire don't believe those claims," he said. "The problem is perception outside of New Hampshire and how other states view the election process here. Perceptions are of concern because it's important that voters feel that their elections are conducted fairly and with a high degree of integrity."
An attack on New Hampshire is particularly symbolic because of its traditional and treasured "first in the nation" role in presidential primary voting.
Trump and his aides seem to be jumping on discredited claims of a Massachusetts invasion, pushed by now-New Hampshire Governor Chris Sununu. 
Trump, who lost the Granite State to Democrat Hillary Clinton, reportedly told a small group of senators he would have won there had it not been for pervasive fraud. 
Scanlan, head of the state elections division, noted that New Hampshire has anti-fraud measures in place, including photographing people at poll sites if they can't produce the required proof of identity. "We're confident that the results are what they were and were not impacted by the type of activity that's been talked about" by Miller and Trump, Scanlan said.
As for the nature of the fraud accusations coming from the administration, "It's certainly unprecedented, but given the nature of the campaign and how that played out, it probably is not unexpected," he said.
Trump said in a tweet that he was satisfied with Miller's work representing the presidency on the Sunday shows. 
"Congratulations Stephen Miller on representing me this morning on the various Sunday morning shows," Trump tweeted. "Great job!"
But specters raised by Team Trump's talk of supposed fraud, which goes back much further than (and with just as little proof as) the latest allegations, is already having real-world consequences.
"Republicans in New Hampshire, who now control the state government, have introduced 40 bills in the 2017 legislative session that would make it harder to vote," the Nation reported Monday, citing the Granite State proposals as part of a national trend.
Feb. 13, 2017, 3:31 p.m.: This article has been updated.