Is the 'For Honor' beta over? Open beta ends ahead of official release date.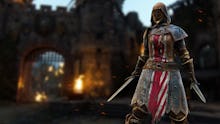 For Honor's open multiplayer beta has been the talk of the town over the past few days, with players discovering and enjoying the nuances of its deep, satisfying melee combat. You might be wondering, though, if it's still possible to get a taste of the game's multiplayer modes without buying it.
Is the For Honor beta over?
The answer is yes. The open beta for For Honor closed at 5:00 p.m. EST on Sunday, Feb. 12. There is good news, however. The game is out on Tuesday, Feb. 14.
So if you're alone on Valentine's Day or you and your partner don't have anything better to do, you can pick up For Honor and play the full game. Enjoy a romantic evening of brutal combat between Samurai, Knights and Vikings.
For what it's worth, the Knights faction won the beta's War of the Factions event with the most territories controlled. If you were part of the Knights during the beta, you can get a unique coat of arms in the full game.
More For Honor tips, tricks and guides
Looking for more help with For Honor? Check out Mic's guides for how to parry, how to execute, how to throw, how to revive and what to expect from the game's single-player campaign.