The South Korean government's unexpected relationship with New York Fashion Week explained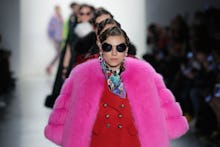 For its 15th appearance at New York Fashion Week, Concept Korea did not go for the understated.
The show was vibrant, mixing classic checked prints with futuristic modernity; exciting for sure, but par for the course at New York Fashion Week. What makes Concept Korea unlike any other brand to ever show at NYFW is not so much the clothes, but rather who backed the show: the Ministry of Culture, Sports and Tourism of the Republic of Korea.
"We've always aspired to introduce Korean culture and lifestyle at a global level," In Young Cheong, deputy director of the Ministry of Culture, Sports and Tourism in South Korea, said in an interview. 
He continued: "A form of true artistic expression, fashion plays a crucial role in conveying these societal and creative aspects of our country, and showcases what we represent. We initially promoted Korean designers and collections at exhibitions and hosting parties, and all of this has transformed into a celebration of our home and the talent that exists here."
The selection process for designers begins with the Ministry reviewing and evaluating portfolios from applicants. Every year since Concept Korea's inception in 2010, various influencers including public relations specialists, retailers, consultants and department store buyers help them narrow the selection down to three designers.
Each group of designers then show for two seasons. For example Greedilous, Kimmy J and Yohanix showed for SS17 and FW17. Next season will be three different entirely new brands. 
So why New York Fashion Week and not Seoul Fashion Week? "Maintaining diversity of media, and a strong and celebrated high-fashion environment, New York was the natural choice for the focus of our collections," Cheong explained. "We cherish New Yorkers' optimistic views of other cultures and unique perspectives from the outside, all of these being factors that led us to choose the U.S. market to show our work. We want our designers to have the opportunity to display their art and connections to Korean culture in the most notable and welcoming setting."
To learn more about Concept Korea, including this year's designers, check out the global project's official website.