5 times white students invoked Trump to taunt minority students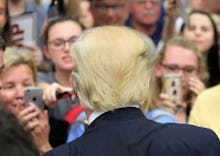 During a "Hick Night" basketball game Feb. 8, a large group of white high school students in Pennsylvania reportedly taunted black players on the visiting team with Donald Trump campaign mottos.
According to the Uniontown, Pennsylvania, Herald-Standard, when black players from Uniontown High School approached the foul line, a group of 60 white students from Connellsville Area Senior High School clad in flannel and camouflage for the theme night — one of whom held a Trump campaign sign — chanted, "Build that wall! Get them out of here!" 
Both schools are located just north of the Pennsylvania-West Virginia border in southwestern Pennsylvania.
Tasha Walton, the mother of a freshman Uniontown basketball player, told the Herald-Standard that they were brought to "tears to see the hatred."
"I'm 36 years old, and I have never in my life experienced anything like this before," Walton said. "I have never seen so many racist and hate-filled comments, and it's breaking my heart."
The incident was a recent example of white students invoking Trump to bully minority students. In November, the Southern Poverty Law Center reported a rise in "verbal harassment, the use of slurs and derogatory language and disturbing incidents involving swastikas, Nazi salutes and Confederate flags" at schools since Trump's election. By January, the SPLC announced that the frequency of such hate incidents had subsided some, but remained above pre-election levels.
Here are a few recent examples of white students invoking Trump to taunt minority students:
Jefferson Township, New Jersey
During a Jan. 27 basketball game between Dover High School and Jefferson Township High School in New Jersey, a "small but vocal" contingent of Jefferson students chanted "ashy knees" at a black Dover player and shouted, "Build the wall!"
The theme for the game in Jefferson was "American pride," according to NJ.com. 
"Their intent was disrespect," a Dover parent said. "Not to promote the country as a whole."
York, Pennsylvania
In November, the day after Trump's election, a white student at York County School of Technology was captured on video yelling "White power!" as he walked through the hall carrying a Trump yard sign. 
Other students at the Pennsylvania high school reported white students had harassed minority students with taunts that they would "deport Mexicans back to Mexico and blacks back to Africa," and many minority students left school early the Wednesday after the election and did not show up to school on Thursday because they felt threatened. Shailynn Cornish, a 10th grader at the school, told PennLive that some white students had even spit on minority students and that one group of students slashed the tires of a car in the parking lot.
"It's not usually like this here," Cornish said. "It's because of the election. All these white people who are for Trump are going against all the blacks and Hispanics. They are going around shouting white power and being racists towards blacks. It's not safe. You are not comfortable."
Kingston, Oklahoma
During a January girls high school basketball game in Kingston, Oklahoma, a crowd used Trump signs to bully the opposing team's Hispanic players, according to parents of players from the visiting Madill varsity basketball team.
Taylor Jowers, whose sister was one of the Madill players, told local FOX News affiliate KXII that while it is "okay to support who you support," the signs were meant to offend.
"Talking about 'build the wall,' you know," Jowers said. "We all know who it was directed towards."
Danbury, Connecticut
Minority students haven't faced harassment only from their white peers.
On Inauguration Day, an apparently intoxicated white man in his early 30s carrying a Trump sign was captured on video taunting minority students as they left class at Danbury High School in Connecticut.
"You'll be out of the country you fucking illegal," the Trump supporter shouted at one of the students.
Hugo Hernandez, the high school junior who took video of part of the incident, told the Connecticut Post that while he was not the target of the harassment, he is the son of Guatemalan immigrants and knows "how it can feel to be called 'illegal.'"
"I was shocked," Hernandez said. "Trump got inaugurated and this is already happening."