'Jessica Jones': Season 1 recap and 5 things to expect in season 2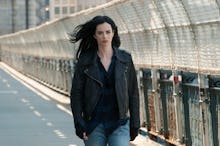 It's now been over a year since Marvel's Jessica Jones premiered its first season on Netflix. Sure, we've gotten a new season of Daredevil and the first season of Luke Cage to hold us over, but with all that time gone by it has become easy to forget about the Krysten Ritter-starring show.
While we're probably not going to get any new episodes of the superhero series anytime soon, there are some things you should know about its first season and expect from the second.
Jessica Jones season 1 recap
The series doesn't shy away from serious topics
Early on when we meet Jones, we learn she has pretty much retreated into alcoholism and misanthropy. She works as a private detective, and while it's immediately clear that she's suffered some sort of trauma, it takes some time for viewers to learn the true extent of it all. 
That's when we meet Kilgrave, the sociopath who used mind control to force a relationship with Jones, to strip her of consent, and to kill innocent lives just because he said so. 
It makes the series exceptionally complex, and what it lacks in fight scenes it makes up for in Kilgrave's powerful manipulation. He finds out about the things Jones cares about and he exploits them, all in the name of his love for her. It's truly twisted, but the series is intent on showing the weight his abuse has on Jones. At the end of the day, she is still human, and she fights back in her own time and way.
The major antagonist dies
Outside of Ritter's riveting performance, one of the greater aspects of Jessica Jones is David Tennant's nuanced portrayal of Kilgrave, the main antagonist from the series who torments Jones — and everyone, pretty much — through mind control.
This ends in the season finale of the series when Jones, pretending to be under his influence — snaps his neck. Goodbye, Kilgrave. 
Luke Cage is Jessica Jones' romantic interest
Before he got a series of his own, Luke Cage first appeared in season one of Jessica Jones as the titular character's major love interest. Jones begins spying on Luke at the bar he owns after realizing that he's the husband of a woman she killed while under nemesis Kilgrave's supernatural influence. They begin hooking up, but eventually Jones can't take the guilt and confesses to Cage that she was the one who killed his wife. Although Cage initially calls things off, he forgives Jones once he experiences Kilgrave's persuasive power and is forced to burn down his own bar. 
Critics loved it
Jessica Jones was an immediate hit for critics. 
Matt Zoller Seitz, Vulture 
Yes, 'Jessica Jones' is as good as you've heard. Better yet, it's enjoyable even if you've never heard of the main character and know nothing of the comics it's based on.  
Alan Sepinwall, Uproxx
Jessica Jones is unlike anything Marvel or DC has tried in the live-action realm, and it's excellent. 
Liz Shannon Miller, Indiewire
But there's something really extraordinary about this show, and it comes down to Kilgrave. Man, woman, gay, straight, black, white — every character has layers. Everyone has complications. And that's not just the background against which Kilgrave works. That's what Kilgrave strips away and amplifies the importance of along the way. 
5 things to expect in Jessica Jones season 2
1. Season 2 won't premiere until at least 2018
We haven't seen Jones since the series first premiered in late 2015 — she didn't show up in Luke Cage, though other Marvel characters did appear. It looks like a new season of Jessica Jones, while confirmed, is still far away.
This past summer, at the Television Critics Association press tour, Netflix's chief content officer Ted Sarandos stated that we will be getting two Marvel shows a year on the streaming service. 2016 brought season two of Daredevil and the first edition of Luke Cage. This year we're getting Iron Fist and The Defenders. 
This leaves season two of Jessica Jones room to come out in 2018.
2. We'll see Jones in The Defenders
We might have to wait until 2018 for a new season of Jessica Jones, but at least we'll see the character in The Defenders, a series that will bring Netflix's  four Marvel characters together — Jones, Luke Cage, Daredevil and Iron Fist. Iron Fist will be released in March, which will mean, at that point, that we'll have met the entire Defenders team. 
While this means we probably won't get as much Jones screen time as we're used to, at least we'll catch up with the character.
Moreover, we can assume that whatever happens with her in The Defenders will inform season two of Jessica Jones.
3. The whole season will be directed by women
Created by Melissa Rosenberg, Jessica Jones is the only female superhero in Netflix's Marvel world. It makes sense that Rosenberg would want to enlist female directors — and only female directors — for season two.
At a panel about diversifying Hollywood, Rosenberg spoke about the necessity of having more diverse faces behind the scenes, stating that for Jessica Jones it's "a conscious decision and it's very important that showrunners do that."
4. There will be a new villain
Naturally, since Kilgrave is dead, Jessica Jones is in need of a new villain for its second season. 
Speaking to Entertainment Weekly about the upcoming series, Rosenberg addressed what a post-Kilgrave season will look like. For starters, it looks like there may be more than one villain.
Rosenberg went on to say, "No one is ever going to beat David Tennant as Kilgrave, so you don't do that. The biggest mistake would be to try to repeat that. You just go, 'OK, we're not doing that, so we have this open to us.'"
5. Expect more between Jones and Trish 
We're still thin on plot details for season two, but in the same interview with Entertainment Weekly, Rosenberg spoke about wanting to develop the relationship between Jones and her oldest friend, former child-star Trish. 
At the end of season one, the two teamed up to take out Kilgrave and we learned just how much Jones loves Trish, something that's very hard for her to do.
"That is the core relationship in the piece. It is about female friendship, it is about how friends evolve — they're sisters, really — and it's about how they evolve and ping off each other," Rosenberg said. "I'm interested in relationships, whether they be romantic, or family, or friends, or professional — that's what's interesting to me, is Jessica in relationship to people."