In the face of the Trump presidency, Nike just released a star-studded campaign celebrating equality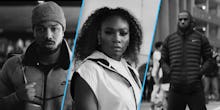 The Trump administration is making athletic clothing brands pick sides — and quickly. 
Just last week, Reebok released its own "Nevertheless she persisted'" T-shirt, just days after Under Armour's CEO made pro-Trump statements in an interview with CNBC. Now another athletic brand, Nike, is putting its own stance on President Donald Trump out there for the world to see. 
In a powerful, star-studded new campaign called "Equality," athletes like Serena Williams, LeBron James and Megan Rapinoe and celebrities like Gina Rodriguez, Michael B. Jordan and Alicia Keys come together in the name of equality and against discrimination. 
In a video released on Sunday for the campaign, which is shot entirely in black and white, Jordan narrates over images of different athletes and people with eloquent statements on equality and unity in sports and beyond, while Keys sings a cover of Sam Cooke's "A Change is Gonna Come" in the background. 
"Equality should have no boundaries," Jordan says. 
"Opportunity should not discriminate," he says. 
"The ball should bounce the same for everyone," he says.
"Worth should outshine color," he says.
"If we can be equals here," Jordan begins: "We can be equals everywhere," James says to conclude the video. 
In addition to the video, Nike is also launching a print campaign, which features portraits of the stars in the video. 
On Sunday, Gina Rodriguez posted a picture of her ad on Instagram, with the caption: "Equality means opportunity for individual success and happiness is based on a person's strength of character and their merits, not on their skin tone or cultural background." 
Prior to this campaign, Nike hadn't exactly been mum about its displeasure with the current political climate in America. After President Donald Trump announced his travel ban, Nike sent a letter to its employees condemning the executive order.
"Nike believes in a world where everyone celebrates the power of diversity. Regardless of whether or how you worship, where you come from or who you love, everyone's individual experience is what makes us stronger as a whole," Nike's CEO, Mark Parker, wrote. 
Amid plenty of boycotts — for companies both making their support of Trump known, or the opposite — it'll be interesting to see what sort of effect this kind of ad has on Nike's own sales. 
You can watch Nike's entire "Equality" video below: