Trump-inspired pizzas are making "yuge" political statements across the world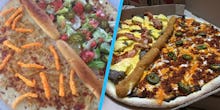 These days, even pizzerias are getting political.
A Cheeto-loaded, taco-inspired Donald Trump pizza debuted at the Peace of Pizza food truck, based in West Texas, on Feb. 7. "Half is a Mexican taco pizza, separated by a white bread border, other half is a chicken Cheetos pizza (Cheetos inspired by Trump's skin tone)!" Peace of Pizza said of the pie on Facebook. 
"The all-bread border was hand-placed by Raul," the post said. "Raul is a[n] honest, hardworking Mexican-American. He is torn on which side of the pizza he likes better. When asked he simply said, 'I'm on the fence.'"
In true 2017 political fashion, the policy-inspired pizza — made by Rob Jenkins, the comedian who runs Peace of Pizza as a passion project — was polarizing.
"It wasn't meant to offend anyone," Jenkins told local NBC affiliate NewsWest 9. "It wasn't offensive in my opinion. I checked with a lot of people before we did it. ... Even Trump supporters, hardcore Trump GOP Republicans, are like, 'That's really funny, you should go with it!' So we went with it." 
To avoid any majorly negative backlash to the Trump pizza, Jenkins said he  discussed the concept with "so many people," including pastors and local GOP heads, "all of which thought it was funny and quite witty," Jenkins told Mic. When the Trump pizza hit the menu, he "honestly thought this was completely nonoffensive." 
Some, however, apparently were offended by the cheesy creation. The NewsWest 9 Facebook page shared the station's story on Jenkins' Trump pizza on Saturday, and it has garnered over 500 reactions at time of writing, with comments in support of Trump's border wall plan and people explaining their feelings about the pizza.
Jenkins said the pizza wasn't designed to tick off any of the rainbow tie-dyed pizza truck's customers, but didn't imagine any of his customers would be upset. "It doesn't really bother me to offend somebody 'cause to be honest, they probably weren't a customer of mine to begin with," he told NewsWest 9. Jenkins added the pizza may be on his menu for the next four years. 
According to the owner, this $15 pie has become Peace of Pizza's best-seller, outselling even classic pepperoni pizza, despite the fact that the food truck operates in a red county in a red state.
Jenkins wasn't the first to make a statement with a border-separating pie. 
About a week after the 45th president's inauguration, Casera Pizza in Mérida, Mexico, posted a photo of its Trump-inspired pie.
In this rendition, deep fried mozzarella sticks separate a bacon-and-cheese half from a sausage-and-jalapeño half. One commenter on Casera Pizza's photo suggested there should be more cheese sticks for the upcoming giant wall, to which the pizzeria responded, "You can order it with extra wall."
Maybe if the proposed border wall was made of finger foods Trump would garner more support? 
On Feb. 3, Giovanni's Pizza and Pasta of (ironically) Whitehouse Station, New Jersey, also shared its notably similar Trump pizza creation.
The Russian dressing is a nice touch. 
Following suit, New Zealand's Filadelfio's Gardens debuted a Trump pizza on Feb. 5, with tortilla chips and jalapeños representing Mexico and a heavy load of meat and cheeses representing the United States, drawing a slick barbecue sauce wall to separate the two. 
What odd times we live in when a condiment can make a major political statement. 
If there's anything to be learned from the border wall pizza trend it may be this: In times of strife, people are willing to get horrifically eclectic with their pizza toppings. Perhaps there is some unity to be found in these mash-up foods after all.