Trump's Cabinet Picks: How many of the president's nominees have yet to be confirmed?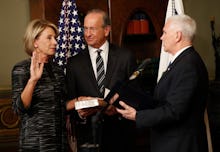 Though some of President Donald Trump's most controversial Cabinet members have already been confirmed, there's a long way to go before his full Cabinet is in place. Twelve Cabinet nominees are still waiting to be confirmed, including housing secretary nominee Ben Carson and labor secretary nominee Andrew Puzder. 
In order to be confirmed, ABC News explains, nominees are first assigned to a Senate committee, which holds hearings evaluating the nominee before voting on whether to move the nomination to the Senate floor. 
From there, the full Senate votes on the nomination, which will pass with a majority vote. While confirmation votes previously required 60 Senate votes in order to overcome a potential filibuster, Senate Democrats changed this in 2013 when they invoked the "nuclear option" to combat Republicans' obstructionism.
Here are Cabinet nominees who are still waiting to be confirmed:
Waiting for a confirmation hearing
Andrew Puzder, Department of Labor
Andrew Puzder, the CEO of Carl's Jr. and Hardee's owner CKE Restaurants, has his hearing scheduled for Feb. 16 before the Health, Education, Labor, and Pensions Committee. Puzder's nomination has stalled due to delays in resolving conflicts of interest and divesting from his business. 
Puzder opposes raising the minimum wage — and, like Trump, is no stranger to objectifying women. In an interview with Entrepreneur about his company's hypersexualized advertisements, Puzder said, "I like beautiful women eating burgers in bikinis. I think it's very American. I used to hear brands take on the personality of the CEO ... I think this one ... did take on my personality."
Sonny Perdue, Department of Agriculture
Sonny Perdue's hearing date hasn't been set, though it's anticipated to take place in mid- to late February. Perdue, the former governor of Georgia, previously worked as a veterinarian and leader of a fertilizer and grain company. 
Environmental activists decried Perdue's nomination, citing substantial federal farm subsidies he's received that benefit chemical companies and larger agricultural corporations at the expense of the environment and smaller-scale farms. 
Dan Coats, director of National Intelligence  
Dan Coats, a former Indiana senator and ambassador to Germany, is Trump's pick to oversee the government's entire military and civilian intelligence system. Despite Trump's fraught relationship with U.S. intelligence agencies, the former Senate Intelligence Committee member is seen to be a well-liked and uncontroversial choice. 
Coats previously took a particularly harsh stance on Russia, and was banned from the country in 2014.
Robert Lighthizer, U.S. trade representative 
Washington lawyer Robert Lighthizer will aid in Trump's harsh trade stance against such countries as China and Mexico. Lighthizer, the deputy trade representative under Ronald Reagan, is a proponent of protectionist trade policies, and previously represented U.S. steel companies.
Waiting on Senate floor vote
David Shulkin, Department of Veterans Affairs
David Shulkin will be voted in on Monday, following a unanimous vote from the Veterans' Affairs Committee. Shulkin, the VA's undersecretary for health, was first appointed by President Barack Obama. If confirmed, Shulkin will be the first nonveteran to hold the position, as well as the only Obama administration official on Trump's Cabinet.
Linda McMahon, Small Business Administration
McMahon will likely be voted in on Tuesday, following an 18-1 vote from the Small Business and Entrepreneurship Committee. 
Best known as the co-founder and former CEO of World Wrestling Entertainment with husband Vince McMahon, McMahon donated $7 million to Trump's campaign. The McMahons are the largest outside donors to the Donald J. Trump Foundation, according to a tweet by the Washington Post's David Fahrenthold.
Ryan Zinke, Department of the Interior
Montana Rep. Ryan Zinke was approved by the Senate Energy and Natural Resources Committee in a 16-6 vote on Jan. 31, and his vote could take place by Friday, according to Paste. 
The former Navy SEAL has defended public access to federal lands and keeping them under federal control, but voted in favor of energy development on federal land. Zinke has argued climate change "is not proven science." 
Rick Perry, Department of Energy
Former Texas Gov. Rick Perry may soon be confirmed to lead a department Perry once forgot that he wanted to eliminate. Perry says he now "regrets recommending its elimination," having realized the "vital functions" the department performs — including managing the nuclear arsenal. 
Perry is also a climate change skeptic, but said he now believes "some of" the current climate change is from "man-made activity." 
Wilbur Ross, Department of Commerce
Wilbur Ross was approved by the Commerce Committee on Jan. 24. The steel and coal industry billionaire would be one of the richest individuals to ever hold public office. 
Ross has been reported to be "passionate" about American industry and manufacturing, and is also a proponent of government privatization who once profited off bankrupt steel plants as employees' retirement benefits were slashed. The president has said he will expand the commerce position, the Guardian notes, giving Ross the power to shape international trade policy.
Ben Carson, Department of Housing and Urban Development
Ben Carson has no date set for his Senate confirmation vote. The neurosurgeon and onetime presidential candidate has no experience in housing policy or government. Nevertheless, Carson's nomination was unanimously approved by the Senate Committee on Banking, Housing and Urban Affairs.
Scott Pruitt, Environmental Protection Agency
Scott Pruitt is still waiting to become the next head of an agency that, as attorney general of Oklahoma, he sued 14 times. Pruitt, a climate change skeptic, said during his confirmation hearing he had doubts over the scientific consensus over climate change. He was later approved with an 11-0 vote by Senate Republicans on the Committee on Environment and Public Works, despite a Democratic boycott.
Mick Mulvaney, Office of Management and Budget
Mick Mulvaney is waiting on an unscheduled vote after being approved by the Senate Committee on the Budget. The tea party South Carolina congressman is a founding member of the Freedom Caucus that dethroned former House Speaker John Boehner. 
Mulvaney has taken harsher budgetary stances than other Republicans, and supported the shutdown of the federal government over raising the debt limit. His nomination is likely to face resistance from select Republicans, particularly those advocating increased military spending.
Feb. 14, 2016, 8:40 a.m.: This story has been updated.