Here's why 'Overwatch' is slow to deliver new characters: Release schedule explained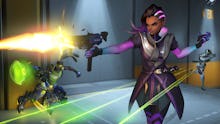 Though it feels like it's been around for a lot longer, Blizzard's multiplayer shooter Overwatch will have its official one-year anniversary in May. In that relatively short amount of time, it has added two new characters, increasing its roster to 23.
In comparison to other online games — like League of Legends, which has 134 characters, increasing that number every month or two — Overwatch's roster might look a bit slim to some. Overwatch's most recent new character, Sombra, was added in November. 
If that bit of information makes you feel a tad frustrated, you're probably not alone. However, if you don't take a step back, it's easy to forget just how much Blizzard has added to Overwatch since launch. In fact, Blizzard has kept perfectly with its goal for adding new content.
Not sure what we're talking about? Let's dive in.
Overwatch new characters: Blizzard sticks to a one-new-thing-per-month schedule
If you think new Overwatch characters come out too slowly, it's important to remember that new character releases have to compete with a slew of other content updates, like seasonal events, new maps and new modes. Blizzard has been keeping a pace of about one major new thing for Overwatch per month — so, obviously, that one thing won't always be a new character.
If you need a refresher, here's an overview of the major Overwatch additions every month since launch:
June
It's also important to remember that character balance is probably the single most important thing that makes Overwatch work as well as it does. Adding just one new character can totally shift the way all the other characters relate to one another, making well-established strategies dangerous and creating entirely new ones that would have been impossible previously.
For example, nobody had to worry about having healing abilities negated until Blizzard added Ana, nor did they have to prepare to randomly lose their abilities until Sombra came along.
Blizzard is pretty meticulous about testing its characters before rolling them out, so if a character isn't available to play, that's probably because they simply aren't ready for prime time yet. Waiting is frustrating, but it's probably better than playing with a totally broken character — especially when Blizzard still tweaks and modifies characters that have been in the game since launch.
So, when will Blizzard add the next Overwatch character?
There's a patch on the PTR that's testing a whole bunch of new changes, one of which is a new server browser that allows for players to create custom games with wacky rules. It's likely Blizzard considers the server browser to be its major content update for February.
However, if you look at the above schedule, Overwatch seems just about due for a new character, right? 
Good news! Speculation is underway that Doomfist — a character that has a presence in Overwatch but has yet to actually appear — will be the next Overwatch character. If these Doomfist rumors pan out, perhaps he'll make his way onto the live servers in March or April.
More Overwatch news and updates
For more on Overwatch, check out the rest of what Mic has to offer. Here is a list of our predictions for what seasonal events might appear in 2017, a look at a very funny, but naughty meme on the Overwatch subreddit, an interview with the creator of an awesome new Overwatch zine, the full patch notes for Overwatch version 2.03, a full explanation of the different types of health in Overwatch, our definitive ranking of every Overwatch hero, a roundup of awesome gender-bent Overwatch cosplay and a giant Overwatch FAQ for beginners.