Yale renamed Calhoun College — but these schools still have racist building names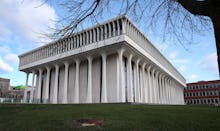 Yale University announced on Saturday that it planned to heed the advice of students, alumni and activists and remove the name of John C. Calhoun — the nation's seventh vice president and a staunch defender of slavery — from an undergraduate residential college.
Although Yale University president Peter Salovey did not announce a specific timeline for when the name change will go into effect, he said he and the board of trustees had decided the building will henceforth be named for visionary computer scientist Grace Murray Hopper.
Yale is just the latest university to submit to mounting pressure from the public to remove the names of noted slave-owners, people who promoted slavery and bigots from its buildings. University of Oregon and Georgetown University both recently opted to do the same.
While the march of progress is slow and uneven, below are seven more universities who should follow their lead by dumping the names of the people who adorn their building's facades.
1. Woodrow Wilson School of Public and International Affairs, Princeton University
In April 2016, Princeton's Board of Trustees called for a name change for Woodrow Wilson College. 
While the former president was previously honored for having beliefs that the school said spoke "directly to our values and aspirations," a later committee eventually took issue with "the position he took as Princeton's president to prevent the enrollment of black students and the policies he instituted as U.S. president that resulted in the re-segregation of the federal civil service." 
2. Vardaman Hall, University of Mississippi
Vardaman Hall — named for former Mississippi Gov. James K. Vardaman, who once said that he would lynch every black person in the state "to maintain white supremacy" — is also overdue for a name change. 
A resolution to rename the hall was passed through to a university rules committee in 2016.
3. Tillman Hall, Clemson University
In 2015, members of Clemson's faculty senate took to a school website with a blog post challenging the legacy of the namesake that begot "Tillman Hall."
"Ben Tillman was complicit or directly responsible for the killing of many black people, an action for which he apparently felt no remorse," post read. "Why would we honor this legacy by retaining his name on one of the iconic buildings on campus?"
Unfortunately, the Clemson Board of Trustees chose to keep Tillman's name attached to the building after a coalition of students and alumni rallied against the proposed change.
4. Forrest Hall, Middle Tennessee State University
At Middle Tennessee State University, over a thousand students "liked" a Facebook page aimed at convincing school officials to change the name of the school's Forrest Hall.
From the group's Facebook page:
Nathan Bedford Forrest was a lieutenant general in the Confederate Army, and was the 1st Grand Wizard of the Klu Klux Klan. The ROTC building on MTSU's campus (Forrest Hall) is named after him. There is no reason or explanation on why MTSU continues to honor this man that is in any way justifiable. Help us to ensure that the memory of this hateful man be washed off of MTSU's Campus.
5. Multiple buildings, University of Alabama
When it comes to problematic building namesakes, the U. of Alabama is a serial offender. 
There's Bibb Graves Hall, named for a former Grand Cyclops of the Montgomery chapter of the Ku Klux Klan; B.B. Comer Hall, named for a former plantation owner who made profits off the labor of slaves; and Hardaway Hall, named for former slave owner and confederate soldier Col. Robert Hardaway. 
6. Lamar Hall, University of Mississippi 
Named after Quintus Cincinnatus Lamar, a lieutenant colonel in the Confederate Army and a prominent white supremacist, Lamar Hall at the University of Mississippi has not public cries of outrage in the same way the other buildings on this list have.
7. Graves Residential Hall, Auburn University
As at the University of Alabama, Graves Hall at Auburn University is named after former Alabama Gov. David Bibb Graves, a former Grand Cyclops of the KKK. 
Although Bibb eventually ran for office on a progressive platform, some might say his legacy of oppressing and disenfranchising the black community should be enough to warrant a reexamination of the building name in 2017.