Is 'For Honor: Gold Edition' worth it? Here's what you get in the $100 special release.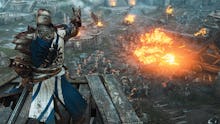 The For Honor open beta is over and the full game launches on Feb. 14 at midnight Eastern time. You're going to have to pay at least $59.99 (in the U.S.) to keep playing if you enjoyed the free slice of the game over the weekend. 
If you're willing to pay extra, though, there are some bonuses in store. The game's $99.99 gold edition is enticing, but is it worth it? Here's what you need to know.
Is For Honor: Gold Edition worth it?
For $99.99, you get the contents of the $69.99 deluxe edition and the $40 season pass. That means you save $10 by buying the gold edition. So if you're really dedicated to For Honor, it's worth it on that metric alone.
More specifically, you'll get three helmet crests, some emblems and a "sunbeam" execution effect for when you lop off the heads of your enemies. You'll also get access to all future downloadable content, which means six new playable heroes. Not only do you get future DLC automatically, you'll also get a week of early access to it.
If you were so enamored with the unique melee action of the For Honor open beta and you have $100 to spend, this sounds like a reasonable deal. The cosmetic upgrades from the deluxe edition seem trivial, but the season pass DLC content is great if you plan on playing For Honor well into the future.
More For Honor tips, tricks and guides
Looking for more help with For Honor? Check out Mic's guides for how to parry, how to execute, how to throw, how to revive and what to expect from the game's single-player campaign.