Free Valentine's Day e-cards: 7 of the funniest and sweetest cards to share on Feb. 14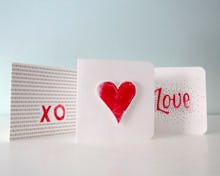 No matter what your relationship status is, almost everyone celebrates Valentine's Day. While chocolates, flowers and cards can add up, we've compiled some free e-cards to share with your loved ones. Whether you're a fan of the holiday of love — or think it's a joke — check out some funny and sweet e-cards that you won't cost you a cent.
If you took your date to see La La Land and regret it now
If your coworker is way too happy about getting flowers at the office
If you and your loved one feel like dancing
...and maybe the flowers do, too! 
If you're maybe feeling just a little defensive
If you're feeling nostalgic
... and you want to remember how it all began. 
If you love them so much you deleted Tinder 
If you're competing with your Valentine's pets for attention 
This should distract him/her for a few minutes. 
Mic has ongoing dating coverage. Visit our main dating hub.