Refugees in the US are now fleeing to Canada, because of Donald Trump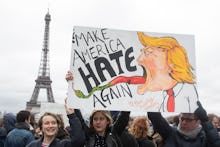 After escaping from their home countries, refugees in the United States are now fleeing to Canada to get away from President Donald Trump, and the country's xenophobia, Al Jazeera reports.
Farhan Ahmed, 36, and Mohamed Mualim, 28, are both Somali refugees. On Feb. 3, after trekking through knee-deep snow fields of North Dakota for five hours to cross the Canadian border, the duo arrived in Canada and subsequently filed for asylum. Ahmed told Al Jazeera the impetus for flocking to Canada was mainly due to Trump and his executive order banning all refugees for 120 days and visa holders from seven majority-Muslim countries, including Somalia.
"Why I have to flee, is because of Donald Trump," Ahmed told Al Jazeera. "It's not safe, so I run. When [the] new president came in, everything changed. The hate speech. The people who have the documents, the status, and everything, they cannot come in."
The order, signed on Jan. 27, was temporarily halted by a federal judge on Feb. 3. Six days later, the 9th Circuit Court upheld the stay on the order. The Trump administration has announced it's considering an appeal of the ruling to the Supreme Court.
Ahmed and Mualim are just two people out of dozens the Manitoba Interfaith Immigration Council have helped with resettling into Canada. MIIC, a nonprofit organization in Winnipeg, Manitoba, helps refugees with the asylum seeker petition process, provides legal services, shelter, food and other resources. On a normal year, only about 40 to 60 refugees cross into Canada from the U.S. Canadian Prime Minister Justin Trudeau, who has pledged to take in refugees, will be meeting with Trump on Monday.
"There were 21 people who crossed the border since [last] weekend," Rita Chahal, the executive director of MIIC, told Al Jazeera. "In January alone, we had 40 [refugees] and since October to [the] end of January, we had 118 [refugees]. Those are huge numbers because in an average year we would normally see generally between 50 and 60."
Chahal then said many refugees have said their main reason for filing for asylum in Canada is Trump.
"There are human lives that are at stake," Chanal said. "The people who are crossing and making these very horrendous journeys and taking risks, they're not thrill-seekers. They're people who are running for their lives for different reasons."
In 2015, according to the Canadian Border Services Agency, about 4,316 people filed refugee claims in the country, Al Jazeera reported. In 2016, one year later, the number increased to 7,022 claims — mainly refugees fleeing from war-torn countries in the Middle East, East Africa and South Asia.
Ahmed and Mualim, however, face the likely chance of being detained and deported for crossing the border illegally. The Royal Canadian Mounted Police told Al Jazeera that 249 refugees from the U.S. were arrested for illegal crossing into Canada in 2015. In 2016, the number nearly doubled with 444. One month into the new year, the number of refugees who have crossed into Canada illegally is already at 41.
Both Ahmed and Mualim, who work as truck drivers, had their asylum seeker petitions in the U.S. denied. Now, if the RMCP detains them and subjects them to deportation proceedings, it could become a death sentence.
"If I go back to Somalia, I will be killed — 100% sure," Ahmed, whose father was murdered by gunmen in his home country, told Al Jazeera.
Al-Shabaab, a militant Salafist group with ties to al-Qaeda, accused Mualim's brother of being a spy and murdered him. 
"It was very hard but we didn't have a choice," Mualim said of leaving the country. "I couldn't stay and feel safe any more in the U.S. You have no choice or they will deport you back. You have only one choice: to cross the border."