Valentine's Day Playlist: 13 songs to get you in the mood for the holiday of love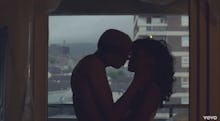 Nothing says Valentine's Day like a perfectly curated playlist. To help get you and your partner in the mood for the holiday, we've put together some songs we think will be the perfect accompaniment to your cozy night in, the long drive to your favorite restaurant or wherever else the night may take you.
From the Spice Girls to Rihanna, here are our choices to help set the mood for your special Valentine's Day. 
Janet Jackson, "That's the Way Love Goes"
A Valentine's Day playlist is not complete without a little Janet Jackson. Jackson's sensual and soulful "That's the Way Love Goes" is the perfect track to kick off your night. 
Shania Twain, "Forever and for Always"
Shania Twain's "Forever and for Always" is the ultimate song to commemorate your undying love for your partner. If possible, take them to a beach and frolic in the sand to really seal the deal. 
Spice Girls, "2 Become 1"
Nothing says love like a girl-group ballad, and the Spice Girls excelled when it came to matters of the heart. The lyrics for "2 Become 1" are about as literal and obvious as the title, but the girls sound great. 
Whitney Houston, "I Will Always Love You"
How could we make a list of love songs and not include the greatest cover of all-time? We couldn't. Whitney Houston's "I Will Always Love You" is for the lovers celebrating several years together or, um, those of you who just met and things are moving really quickly. 
Rihanna feat. Calvin Harris, "We Found Love"
Rihanna: Queen of attending award shows and queen of love dance tracks. While we're still not over Anti missing out on a nomination for album of the year at this year's Grammys, "We Found Love" is a timeless and perfect pop classic about finding love in a hopeless place and will help you dance your night away.
The Supremes, "Baby Love"
No list is truly complete without an inclusion of The Supremes. "Baby Love" is one of the trio's most beloved classics and a sweet ode to that special someone. 
Mumford & Sons, "I Will Wait"
Mumford & Sons "I Will Wait" still brings a single tear to our eyes with the band's moving lyrics about waiting for the one you love. The sweeping love song reminds you that waiting for them to reply to your text truly is worth it. 
Beyoncé, "Love on Top"
Yes, "Crazy In Love" is the quintessential Beyoncé love song. But "Love On Top" is just as good and the live performances have become a staple for all Bey concerts. If you have time, learn the choreography and perform it for your partner tonight to truly win them over. 
Kelly Clarkson, "My Life Would Suck Without You"
Remind the person that you're with that your life would suck without them. Kelly Clarkson's iconic pop-rock anthem will help you with that and you can sing it loud and proud for your neighbors' listening pleasure. 
Celine Dion, "The Power of Love"
Valentine's Day is a very in your face holiday that lets couples brag about their love in front of their single friends, and what better way to show it off than with a Celine Dion power ballad? "The Power of Love" is Dion at her most love-inspired and emotional. 
Lily Allen, "Chinese"
While some couples may prefer going out to a fancy, probably over-priced restaurant on Feb. 14, others enjoy celebrating their love from the comfort of their couch with takeout food. Lily Allen's "Chinese" is a sweet little song about having a quiet night in with your partner. Having takeout and binge watching Netflix is the ultimate relationship goal.
Mariah Carey, "Vision of Love"
Mariah Carey's "Vision of Love" is one of her many timeless masterpieces and like many of the divas on this list, a staple for your perfect night. 
Barbra Streisand, "Woman In Love"
For all the ladies in love this Valentine's Day, look no for further than Barbra Streisand's classic "Woman In Love." This Streisand standard is about doing anything for the one you love and she sings is effortlessly, of course.