Disabilities act info page disappears from Education Department website. We've seen this before.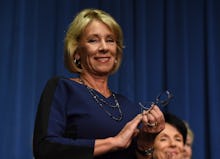 Like journalists in Vladimir Putin's Russia, items keep mysteriously disappearing from government websites under Donald Trump. 
The most recent policy vanishing act is the Individuals with Disabilities Education Act: As the Huffington Post reported, the George W. Bush-era web page with information on what the law meant for students is no longer available on the Department of Education's site. 
At her confirmation hearing, Education Secretary Betsy DeVos did not seem to understand what IDEA — which has protected disabled students' right to public education since the 1970s — actually did. That her department now has a broken link where the IDEA information page used to be is made all the more ironic by its replacement. Today, the website now refers visitors to 159 pages of impenetrable legalese. 
The official line offered by the government was "technical difficulties" — but, according to the Seattle Post Intelligencer, the IDEA scrub predated DeVos' first day in office, which was Friday. Two senators — Patty Murray and Maria Cantwell — are pushing for a "detailed timeline" of the page's disappearance, including an ETA for its return. 
"The department's failure to keep this critical resource operational makes it harder for parents, educators, and administrators to find the resources they need to implement this federal law and protect the rights of children with disabilities," Murray and Cantwell wrote in a joint statement. 
It's not the first time the White House has claimed a glitch to explain what appear to be deletions. One could chalk it up to the administration's apparent difficulties with technology — press secretary Sean Spicer seemingly tweeting out his password for something; the White House senior staff maintaining their private email accounts; Trump tweeting from his unsecured Android phone. 
Even before he took office, Trump's campaign website experienced some so-called digital hiccups, like that time language about his long-promised Muslim ban mysteriously disappeared just days after he was elected president. Technical problems plagued Trump into the White House, leading Quartz to describe the administration's website as "one big 404 error" in the days following the inauguration. First, WhiteHouse.gov visitors noticed that banner issues like LGBTQ rights, climate change, health care and women had been scrubbed from the site. Also absent were accessibility and Spanish language features that have long been required of government pages. 
None of these items have returned, which suggests those waiting for the IT guy to work his magic on the IDEA info page shouldn't hold their breath.
Correction: Feb. 14, 2017