Restaurants with free or discounted Valentine's Day deals — because food is love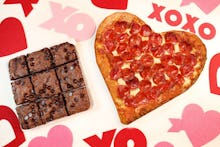 Getting fancy on Valentine's Day is for rookies. If you want to make the most of Feb. 14, go for the food deals, discounts and two-for-one specials that may only come around once a year, because what's not to love about a good deal? 
Skip the formal prix-fixe (it's a Tuesday night, who even wants to load up on $85 creamy pastas?) and treat you and your mate like royalty with these chain restaurant specials that will put a fun money-saving twist on Valentine's Day. Did you just hear Cupid saying cha-ching? Now you can splurge on the gifts! 
California Pizza Kitchen
Go on a West Coast-inspired date for two with CPK's $35 Sweet Deal for Two. The special Valentine's Day meal includes the choice of an appetizer (spinach artichoke dip!), two entrees, including various pizzas and pastas, and a dessert to share. 
Qdoba 
Chipotle isn't offering any Valentine's Day specials this year, but if you're craving a counter-ordered burrito, head to Qdoba for an only slightly creepy BOGO offer. Here's the deal: Kiss a significant other, friend, family member or consenting stranger while ordering at Qdoba on Feb. 14 and get an entree of similar or lesser value to your first order for free. If you meet the love of your life in line at Qdoba on Valentine's Day, we'd like to know about it. (No, but really.)
Hooters
Hooters' much buzzed-about Shred Your Ex campaign entitles diners who shred a photo of an ex at Hooters to a free order of 10 wings — that is, with the purchase of 10 wings. Can't eat 20 wings alone? Bring a date or another vengeful friend. Hooters won't verify that you actually dated the person whose picture you're shredding, so feel free to get creative with the enemy you're eager to rip to pieces. 
Dairy Queen
In case you missed that excellent red spoon commercial, know that DQ will be offering a special heart-shaped blizzard cake for two on Valentine's Day for just $9.99. 
Buca Di Beppo
Make it a family-style Valentine's Day with a $49.99 dine-in special at Buca Di Beppo, which includes a heart-shaped lasagna for three, small salad, small garlic bread and three chocolate chip cannoli. What a great way to fuel your menage-a-trois! 
Olive Garden
If you want to keep things cozy at home, curl up with a $34.95 takeout special from Olive Garden, which will include soup or salad, breadsticks with dipping sauce, a shareable pasta entree and dessert. 
Pizza Hut
Cuddle with your darling or just cuddle with some takeout pizza with Pizza Hut's $13.99 Valentine bundle, which includes a one-topping heart-shaped pizza and choice of dessert. 
Fogo de Chão
Secure that second date by paying for the first at Fogo de Chão, where a reservation on Valentine's Day will earn you a complimentary lunch or dinner card to use at your next visit. Double steak! 
Outback Steakhouse
Outback is offering a $42 (and up) Bloomin' With Love for Two special that will include a Bloomin' Onion to share, two entrees, two sides, two salads and a New York style cheesecake. If that feast doesn't put you in the mood, add on a $5 love potion cocktail. 
White Castle
For its 26th year in a row, White Castle will offer reservations and tableside service for a special Valentine's Day meal, a representative said in an email. Prices will vary by region, but shareable specials will include the "Love at First Bite" (12 original sliders, two medium fries), "Turn Up the Heat" (five jalapeño cheese sliders, five original sliders, two medium fries), "Put A Ring On It" (10 chicken rings, five original sliders, two medium fries) and "Eggspress Your Love" (six breakfast sliders, three small hash brown Nibblers).