In cheekiest anti-Trump protest yet, hundreds of protesters mooned Trump Tower in Chicago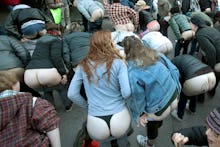 Almost a month into the new Trump administration, anti-Trump protests are a daily occurrence — but this one was, well, a little cheekier than most. 
On Sunday afternoon, hundreds gathered in the Windy City to drop trou and moon Chicago's Trump Tower, ABC7 Chicago reported on Monday.
The "mass mooning" — subtitled "Operation: Kiss Our Asses, Release Your Taxes" — was organized by the comedy group S#!tshow. According to the Facebook event page for the protest, the goal was to call attention to Trump's ongoing refusal to release his tax returns. 
"Donald Trump doesn't think the American people want to see his tax returns, so let's show him that we do in the classiest way possible," the event description stated.
"Meet at 3:30 p.m. at Trump Tower, right in front by the riverside," it continued. "At the crack of 4:00 p.m. (pun intended), we'll pull down our pants for a whole 10 seconds and send a powerful message to the Washington elites."
Protesters were encouraged to use the hashtag #RumpsAgainstTrump when sharing photos of Sunday's demonstration on social media. 
The Facebook event page also seemed to reference a 2006 ruling from a Maryland District Court Judge who found that mooning, while "disgusting" and "demeaning," is not illegal in the state — declaring it to be, as the Washington Post phrased it at the time, "a cheeky yet legitimate form of communication."
The mass mooning in Chicago complements another anti-Trump protest using demonstrators' bodies to make a big statement. On Saturday, thousands of protesters rallied at a San Francisco beach and arranged themselves to spell "Resist!!" in gigantic letters.