iPhone 8 Rumors and Updates: Is augmented reality technology coming to Apple's 2017 device?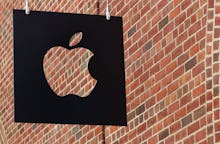 If Apple CEO Tim Cook's words are any indication, the tech giant is all about augmented reality right now — and there may be a big announcement to come when the iPhone 8 is released.
The latest iPhone 8 rumor: According to equity analyst Simona Jankowski, the next-generation iPhone will likely include augmented reality technology, CNBC reports. Jankowski wrote in a note, obtained by Benzinga, that "the inclusion of 3-D sensing functionality is increasingly likely, which could enable a robust augmented reality feature set that we believe will be a key differentiator for the 10-year anniversary iPhone." 
Apple loves augmented reality. In a recent interview, Cook called augmented reality a "big idea" and compared its potential impact to the effect smartphones have had on our culture over the past 10 years. "I get excited because of the things that could be done that could improve a lot of lives," Cook told the Independent. "AR is that big. It's huge."
What is augmented reality? AR refers to a digital or virtual experience that uses real-life objects or environments, like the game Pokémon Go, where you use your phone to capture digital creatures in your actual neighborhood.
How will it work on the iPhone? Unclear. Market Watch notes that Cook refers to augmented reality as a "core technology" that would enhance hardware, so it is likely Apple's augmented reality features would exist within the iPhone instead of being a separate accessory or gadget.
Augmented reality games: A few augmented reality games for the iPhone have been hugely successful. Pokémon Go, for example, earned $200 million in its first month and grossed $600 million in revenue for its developer in just the first three months. Then there's Ingress, another game by Pokémon Go developer Niantic Labs, which made $1.1 million between December 2013 and July 2016. Other augmented reality games available on mobile devices include Clandestine: Anomaly, Night Terrors and Super Hero Augmented Reality. 
Augmented reality apps: Gaming aside, apps like Aurasma, Blippar, Ink Hunter, Layar, Mybrana, Star Chart, Theodolite, WallaMe and Wikitude use augmented reality as well. Social media platform Snapchat also uses augmented reality with its popular geofilters.
All this makes the latest Apple rumor feel like an obvious next step. Cook's statement surrounding augmented reality has sparked rumors about the iPhone 8, including augmented reality being the "standout feature" in the new device. 
AR is one of many exciting rumored iPhone 8 features. Along with the other recent Apple reveals — iris scanning technology, a facial and gesture recognition feature using a front-facing sensor and wireless charging — the iPhone 8, if it's released on Apple's usual schedule, is looking like a must-have item for 2017.