What's next for #NoDAPL now that construction on the Dakota Access pipeline has restarted?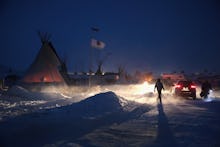 Shortly after taking office, Donald Trump signed a pair of executive orders to expedite review of the controversial Dakota Access and Keystone XL pipelines. On Tuesday, the U.S. Army Corps of Engineers waved the Dakota Access pipeline ahead, and construction resumed soon after. 
As Energy Transfer Partners, which owns the pipeline, continues to work on the 1,200-mile pipeline — which they say can be fully operational in three months — is there anything #NoDAPL can still do to stop them?
A new battle in federal court
Two Native American tribes have filed a lawsuit against the easement granted by the Army Corps of Engineers.
The Standing Rock Sioux and Cheyenne River Sioux have argued that the pipeline threatens their water supply and sacred land.
During a status hearing on Monday in Washington, D.C., U.S. District Judge James Boasberg rejected the tribes' request for a temporary halt on construction until the case is heard.
The judge said he would consider the request more thoroughly during a Feb. 27 hearing.
#NoDAPL protests have continued
The legal challenge is the latest front in the battle against the massive pipeline that opponents, like Vermont Sen. Benie Sanders, say puts "the short-term profits of the fossil fuel industry ahead of the future of our planet."
In December, the Obama administration blocked construction of the project after large protests led by indigenous activists and their allies in North Dakota. 
Protests at the Standing Rock reservation and elsewhere have continued in the wake of the Army Corps of Engineers' decision, and are taking many forms. 
At the Grammys, Paris Jackson — daughter of the late pop star Michael Jackson — dropped the #NoDAPL hashtag while introducing a musical act. In Bellingham, Washington, about 100 demonstrators blocked Interstate 5 for an hour on Saturday in protest of the pipeline. And hundreds of veterans — who in December flocked to Standing Rock to act as "human shields" for the protesters — are returning for a "second deployment." As of Monday, Veterans Stand had raised more than $250,000 on GoFundMe to "address the ongoing needs at Standing Rock and our partners in camp."
"We are committed to the people of Standing Rock, we are committed to nonviolence, and we will do everything within our power to ensure that the environment and human life are respected," Veterans Stand spokesman Anthony Diggs told CNBC. "That pipeline will not get completed. Not on our watch."
But the Washington Post reported Sunday that unseasonably warm temperatures in North Dakota have turned the activists' camp into a mud pit and many of the protesters are packing up to leave ahead of a Feb. 22 eviction date issued by the federal government. The 80-acre property also sits on a flood zone near the Missouri River. 
"We're still in the fight," said activist Josh Dayrider, a member of the Blackfeet Nation of Montana. "And we've accomplished something amazing. We woke the world up by showing how the oil companies treat the land and the people. We're still standing. We're still fighting."