Why is Nick Cannon leaving 'America's Got Talent'? Here's what we know.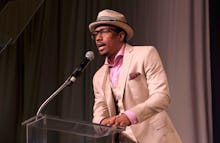 Nick Cannon has decided to stop hosting America's Got Talent, according to several social media posts the musician and actor shared on Feb. 13. 
Cannon, who hosted seasons 4 through 11 of the competitive talent show, claims he learned that network executives were considering firing him due to a racial joke he told in Stand Up, Don't Shoot, a comedy special that premiered Feb. 10 on Showtime.  
The Hollywood Reporter shared the joke, which reads as follows: 
"I honestly believe, once I started doing 'America's Got Talent,' they took my real nigger card. They did! Because then like these type of people started showing up to my shows," Cannon said in the special as he jokingly pointed to three older white audience members in the front row. "I can't do the real nigger stuff no more, because then they'll put me on TMZ." 
Cannon shared his decision to leave the show in a lengthy post on Instagram and Facebook, which began with the following: 
I write this from a deeply saddened and dolorous mindset. After days of deliberating over some extremely disappointing news that I was being threatened with termination by Executives because of a comedy special that was only intended to bring communities closer together, I was to be punished for a joke. This has weighed heavy on my spirit. It was brought to my attention by my "team" that NBC believed that I was in breach of contract because I had disparaged their brand. In my defense, I would ask how so? Or is this just another way to silence and control an outspoken voice who often battles the establishment. 
The NBC talent competition, which Cannon co-hosted with Heidi Klum, Howie Mandel, Mel B and Simon Cowell, garnered 14.4 million viewers during its 11th season finale, marking its highest ratings in six years. Its most recent winner, preteen musician Grace Vanderwaal, rapidly became a beloved social media phenomenon. 
Cannon stressed his love for the show in his post, as well as his reluctance to walk away from its devoted fans:
There is no amount of money worth my dignity or my integrity. I have loved hosting 'America's Got Talent' for the last eight seasons, watching talented, brave, and courageous Americans accomplish their dreams in front of millions has been nothing but a joy, and everyone has been a pleasure to work with but my soul won't allow me to be in business with corporations that attempt to frown on freedom of speech, censor artists, and question cultural choices... I find myself in a dark place having to make a decision that I wish I didn't have to, but as a man, an artist and a voice for my community I will not be silenced, controlled or treated like a piece of property.
Mic has ongoing coverage of America's Got Talent. Please follow our main America's Got Talent hub here.