'Horizon Zero Dawn' Embargo: Reviews are coming soon — here's when to expect them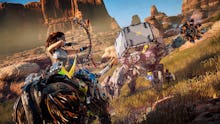 If you're waiting to see how Horizon Zero Dawn turns out before shelling out your hard-earned money for it, you'll have to wait a little bit longer. Fortunately, the game's review embargo is almost up.
Horizon Zero Dawn embargo: Reviews are coming soon
According to NeoGAF, the coverage embargo for Horizon Zero Dawn lifts on Monday, Feb. 20. That means you'll have eight days worth of reviews to read before the game comes out on Feb. 28, which should give you plenty of time to make an informed purchasing decision.
Of course, Mic will have plenty of coverage of our own as soon as we can. Stay tuned for everything you need to know about the PS4 exclusive robot dinosaur hunting extravaganza.
In the meantime, we've also got plenty of For Honor coverage if you're looking for something new to sink your teeth into. That game launches on Feb. 14 following an exciting open beta.
More gaming news and updates
For more gaming news, check out the latest from Mic. Here's the most up-to-date information on the Pokémon Go Valentine's Day event, a story about Steve Bannon's history as a backer for a shady World of Warcraft gold farming operation, tips and tricks for League of Legends' Blood Moon event mode, and an opinion piece on whether the Overwatch character Mercy needs a drastic rework.