Go ahead, call your senators — but there's an even better way to make your voice heard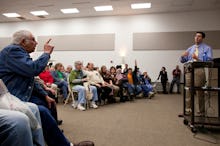 Americans from across the country lit up senators' phone lines, pleading with them to reject some of President Donald Trump's cabinet nominees, such as now-confirmed Education Secretary Betsy DeVos and Attorney General Jeff Sessions.
A new study published Monday, however, found that phone calls are not necessarily the best way to influence lawmakers when they have already taken a firm position on an issue.
The most effective way to influence a member of Congress' vote is with "in-person issue visits from constituents," according to a Congressional Management Foundation study that surveyed more than 1,200 congressional staffers and activists over a 12-year time period.
The study found in-person visits were tied with "contact from constituents reps" as the best way to influence a vote. 
Phone calls actually came in seventh place on the list of the best ways to persuade your member of Congress, behind individualized email messages, individualized postal letters, local editorials and comments during telephone town halls.
That's not to say phone calls are not an effective way to influence your members of Congress. The study found 84% of staffers and activists thought phone calls were a good way to persuade lawmakers.
However in-person contact, whether in a meeting or at a town hall, took the No. 1 spot. 
The study's findings were released as lawmaker town halls across the country have become increasingly fiery, with attendees asking their representatives tough questions about their plans on everything from repealing the Affordable Care Act to investigating Trump's potential conflicts of interest. 
"Town hall meetings are probably the most directly impactful for individual constituents to communicate with the senator, and I'm not sure people typically understand the impact that their presence and comments can have," one Senate communications director told CMF during the study.
In Mic, former Rep. Barney Frank (D-Mass.) recently offered his advice for influencing members of Congress.
"The key to doing it right is being clear about the goal, which is to persuade the senator or representative receiving the communication that how he or she votes on the issue in question will affect how the sender will vote the next time the legislator is on the ballot," Frank wrote.