'Pokémon Go' Valentine's Day Event: How to get the most out of the update before it ends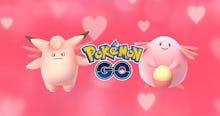 You have a little over two days left to score as many Valentine's Day presents as Pokémon Go will provide you before the holiday event expires.
The increased spawn rates of pink and fairy-type Pokémon and double candy rates introduced by Niantic for Pokémon Go's newest holiday celebration will end on 11:00 PST on Wednesday. One thoughtful player has even put together a guide to help others get the most out of the rest of the Valentine's Day event.
Pokémon Go Valentine's Day event: These are the Pokémon you're looking for
The guide, written by Silph Road community member Norovo, points out which Pokémon to focus on during the Valentine's Day event. Chansey is an easy target: She's usually rare and can be an effective endgame Pokémon. The more Chanseys you catch, the more Chansey candy you have and the more you can power up a good Chansey in your Pokémon collection.
You also might want to stockpile those candies for an upcoming Chansey evolution, Blissey, that ought to be included in a future Gen 2 update. In fact, stockpiling candies for future evolutions is a major part of the guide's strategy for getting the most out of Valentine's Day. 
Slowpoke, a Gen 1 pink Pokémon, for instance, should evolve into Slowking when all the Gen 2 Pokémon are finally live in Pokémon Go. So you may want to stock up on Slowpoke candies while the spawn rate for the species is increased.
Pokémon Go Valentine's Day event: Bonus candy means faster evolutions
Norovo also picks up on a smart strategy for gaining XP during the Valentine's Day event. Because candy rates are doubled across the board during the holiday event, it is easier than ever to stockpile the candies you'll need for a good Pidgey spamming. 
Caterpie, Pidgey and Weedle all require only 12 candies to evolve, and each catch should provide six candies while the Valentine's Day event is taking place. That makes it easier than ever to catch and evolve large numbers of Caterpie, Pidgey and Weedle, which is the basis for the Pidgey spamming strategy.
Stocking up on candies for future evolutions and easier Pidgey spamming are the guide's two most important points, but make sure to read the entire post for more excellent advice on how to take advantage of the remaining Valentine's Day holiday in Pokémon Go.
More Pokémon Go guides, tips, tricks and updates
Check out Mic's guides on how to get stardust, how to determine how long it will take you to reach level 40, the kind of Pokémon you get from 10km eggs, how to create new PokéStops, how to maximize your chances of catching Pokémon and how PokéStops distribute Pokémon eggs. Also check out how to catch Gen 2 baby Pokémon, our analysis of post-balance update Chansey and Rhydon and everything you need to know about finding the long-awaited Pokémon Ditto.