#DayWithoutLatinos march draws thousands of protesters to the streets of Milwaukee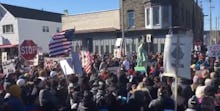 Thousands of protesters packed the streets of Milwaukee on Monday in what organizers dubbed a "day without Latinos" march, local television station WITI reported.
Borrowing their title from the 2004 satirical film A Day Without a Mexican — which imagines what would happen if Mexicans suddenly disappeared from California — demonstrators closed their business, left their jobs and flooded the city's south side to protest immigration crackdowns promised by Milwaukee County Sheriff David Clarke.
Clarke — a right-wing hardliner and vocal surrogate for President Donald Trump — said in a Facebook post Jan. 27 that he would partner with Immigration and Customs Enforcement officials to round up undocumented Wisconsinites.
"No more catch and release of criminal illegal aliens," Clarke wrote in the post. "It is a public safety priority."
Some civic and law enforcement officials from around the United States have said they will oppose Trump's plans to deport more undocumented people. Not Clarke: He plans to enroll his officers in ICE's 287(g) program, which would deputize them as immigration agents and allow them to seek out and arrest undocumented people on their own.
Voces de la Frontera, a Wisconsin-based immigrant rights organization, organized the march, which brought together immigrants and supporters from varying backgrounds.
"To stop Sheriff Clarke, Voces de la Frontera has called for a Day without Latinxs, Immigrants and Refugees on Monday, Feb. 13," the group said in a news release. "Thousands of community members and supporters throughout Wisconsin will stay away from work and school, close their businesses, leave their farms and march at 11 a.m. from Voces de la Frontera's offices to the Milwaukee County Courthouse."
Correction: Feb. 13, 2017