High-CBD, Low-THC Strains: The best marijuana for anxiety, pain, relaxation or sleep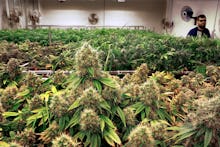 These days, there are more ways than ever to get high on marijuana — including, if you can believe it, not getting high at all.
No, really, hear me out: In the era of black-market weed, sheer potency was the name of the game, and that meant strains packed with THC, or tetrahydrocannabinol. THC is, quite simply, the chemical in pot that makes you feel "stoned," euphoric, and unable to operate heavy machinery. Smoking weed that's heavy on the THC can certainly be nice, but only if you don't have major plans for the next few hours.
That's where CBD, or cannabidiol, comes in. This weed chemical is having a moment right now. Not only is it medically promising for people dealing with pain, anxiety and seizures, but it also appears to counteract some of the adverse effects of THC. The result is a substance that's perfect for first-timers as well as patients who want relief from pain without being incapacitated by THC, the psychoactive cannabinoid favored among recreational users. 
Like most pot products, you can get CBD in a variety of forms: edibles, pills, vape oils and even sprays and salves applied directly to the skin for anti-inflammatory purposes. And if you enjoy smoking, there's no shortage of high-CBD, low-THC strains to choose from. Next time you swing by your neighborhood dispensary, ask your budtender about these.
Harlequin
Harlequin, which is said to have predated the current CBD craze by a few years, is notable for its 5:2 ratio of CBD to THC. Often recognized by its orange-reddish hairs (the pistils of the marijuana plant), it may also come with a nice frosting of white trichomes, the crystalline outgrowths where many cannabinoids are actually produced. Despite its dank appearance, this earthy, citrus-tinged weed won't get you high. Instead, you can expect clear-headed relaxation without feeling sleepy. It's also a go-to strain for pain management.
Charlotte's Web
Like Harlequin, Charlotte's Web comes in tight, dense buds — but don't be fooled by its muscular appearance. In fact, this strain features almost no THC at all: about 0.3%. That's because it was cultivated from the crossbreeding of marijuana and industrial hemp, a cannabis plant richer in CBD than THC. Developed by Colorado breeders the Stanley Brothers — and only available in that state — it's named for Charlotte Figi, a girl with a rare form of epilepsy. She had her first seizure at 3 months old and was later enduring 300 a week. Now, at age 9, with two doses of Charlotte's Web extract daily, she's thriving. CNN reported her miraculous story, and other families, termed "marijuana refugees," are moving to Colorado for access to this strain.  
AC/DC
Called "California's answer to Charlotte's Web," AC/DC isn't nearly as electric or heavy-metal as the name suggests. At 1 to 2% THC and 19 to 20% CBD, this stuff is as mellow as it gets — non-intoxicating, though with a decent mood lift. It's actually a phenotype of the Cannatonic strain, whose CBD-to-THC ratios can vary greatly, meaning "AC/DC" is basically just a nickname for the Cannatonic plants that turn out to have way more CBD. Even users skeptical of high-CBD products seem to enjoy its relaxing, anti-anxiety effects.   
Stephen Hawking Kush
You know you've made it as an astrophysicist when weed breeders name a strain after you. Part of seed supplier Alphakronik Genes' "Great Minds" series, Stephen Hawking Kush — although not endorsed by its namesake — promises to treat symptoms of everything from attention deficit disorder to carpal tunnel syndrome. It's also recommended for suppressing nausea. With a 5:1 CBD-to-THC ratio and a "vibrant" cherry/berry taste, it may be just what the good doctor ordered. But don't expect it to make you a genius.
Sweet and Sour Widow
Finally, if you want to level up to something with a slightly stronger psychotropic profile, Sweet and Sour Widow is a perfectly balanced strain you ought to sample. With THC and CBD both hovering in the 5 to 11% range, and genetics that lean toward cannabis indica rather than cannabis sativa — the former typically gives you more of a body high than an active cerebral buzz — it's well-suited for insomnia and the stimulation of appetite. The aroma is described as something like a sweet onion's. 
Of course, this is but a smattering of the high-CBD, low-THC weed out there. Growers are coming up with crazy new crossbreeds every day, and with more and more people interested in the CBD experience, we're bound to see an influx of strains like these. So keep an eye out for those three little letters.