Last-minute DIY gifts for Valentine's Day 2017: Candy-infused vodka, pottery and more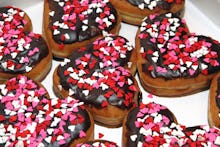 Did you wake up the morning of Feb. 13, look at the calendar and break into a cold sweat because you forgot about Valentine's Day? Fear not — there are plenty of DIY Valentine's Day gifts you can make in time for your date Tuesday night. Here are a few ideas:
"Our Story" Wall Print 
The Dating Divas have a great printable template you can personalize. You can show your honey how much they mean to you by listing all the most important dates of your relationship, like the day of your first date or your first kiss. All you need is the printable card, a date stamp, a pen, and a frame. 
Candy-infused flavored vodka 
If you want to let someone know they're the love of your life, consider giving them a flavored vodka you made by hand. Who could say no to that? 
Here's a basic recipe for candy-infused vodka via CandyStore.com:
Step One: Put candy in a mason jar. 
Step Two: Cover the candy with vodka, filling the jar about three-quarters of the way full. 
Step Three: Let it sit for at least 24 hours. 
The candy choice is up to you. What a sweet treat to enjoy together!
Painting pottery 
Look for a nearby pottery studio where you can paint a vase, plate or another pre-sculpted object for your loved one. This can even be a fun date night idea that you and your significant other can do together. 
A book cover 
If your S.O. is a total bookworm, a book cover is the perfect option for a quick and easy do-it-yourself gift. You can find some easy book cover tutorials and templates here and here. 
If they like to read on their Kindle, check out these cool options for Kindle covers. Caution: for many of these, you will need to have basic sewing knowledge.
Printable coupons 
We've all had a Valentine's Day or two where we're low on cash, but that doesn't mean you can't show your loved one what they mean to you. With printable Valentine's Day coupons — like these from Better Homes and Gardens — you can offer special gifts to your S.O. like a shoulder massage, breakfast in bed or the ability to sleep late. 
You can also try making them by hand.
Write a song or draw a portrait
If you're big on talent but low on funds, use your special skills to do something romantic. If you're a musician, write them a song. An artist? Draw them a portrait. A writer? Write the story of the first time you met.