Nintendo Switch Spec Rumors: Leak of alleged Nintendo internal designs provide hints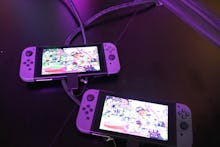 There isn't much time left before March 3, the Nintendo Switch release date. But there is some info Nintendo is still keeping close to the chest. Details about the Nintendo Switch user interface, mobile app and various specs remain unknown — but, as always, alleged leaks and rumors abound.
Here's the latest Nintendo Switch rumor roundup. 
Nintendo Switch specs leak: Interface mock-ups reveal potential lock screen, mobile app look and more
Note that these images come from Reddit. The leaks can be credited to Reddit user throwawayfornx (a disposable Reddit account that has since been deleted) and reposted by user dreamsomebody, who kindly removed all the most telling images and details. For links to every single image included in the link, you'll want to head here, courtesy of redditor ohmyactualday5.
We still can't say for sure whether these leaked mockups did, in fact, come from Nintendo HQ. But the style of each screen looks similar to what we've seen already from the Nintendo Switch UI. If these screenshots are to be believed, they lead to some interesting points about the Switch.
First of all, the images give us a potential view into what Nintendo has in mind for their mobile app. Looking at the leaked list's Imgur page, this image shows you might be able to control some of the console's settings from your iOS or Android device.
Second, the Nintendo Switch may include a lock screen to prevent accidental button presses when inside your bag. Unlocking your device could consist of pressing the same button three times (which sounds like exactly what would happen in your bag by accident, but whatever).
Third, more prominent access to your closest friends and friends list could also make its way to the Nintendo Switch.
Last, switch owners may be able to change the theme of the device, based on their preference.
There are some other interesting facts about the Switch tucked within, like the fact that the technical term for HD Rumble is a linear resonant actuator. And more options to hair, eyes, glasses and more when designing your Mii. Though we'll have to wait for March 3 until we can confirm for sure which of these, if any, will be part of the Nintendo Switch.
Check out more Nintendo Switch news and coverage
Check out our comparison photos sizing up the Switch to the Wii U GamePad, along with details on the console's price, release date, preorders, battery life and our hands-on review. If you're interested in the Nintendo Switch's games, here's info on the new Super Mario Odyssey, Legend of Zelda: Breath of the Wild, Splatoon 2, Xenoblade Chronicles 2, 1-2-Switch and the goofy boxing game Arms.