9 'Living Single' GIFs that every single woman can still relate to in 2018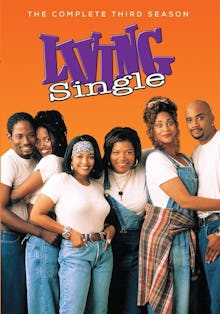 Wednesday marks the 25th anniversary of hit Fox sitcom Living Single. Yes, Khadijah, Regine, Maxine and Synclaire were living in a "'90s kinda world," but the funny moments and messages — black women flourishing and failing at love and life — are so timeless that the five-season series still holds up in 2018.
The series, created by TV vet Yvette Lee Bowser about a group of black friends who live and love in Brooklyn, New York, has long been heralded as one of the best sitcoms of all time. For years, fans of the show questioned why it wasn't out on DVD. It wasn't until 2006 that the first season was available for purchase, and the complete series wasn't on shelves until June, according to Amazon. In January, Hulu finally added the series to its lineup.
In the age of endless announcements of TV reboots — ALF? Really? — Queen Latifah, who on Living Single played magazine publisher Khadijah, caused a stir in 2017 when she hinted that there was a Living Single reboot in the works. And in July, Erika Alexander, who portrayed quick-witted attorney Maxine, added a bit more hype to the rumors on Instagram when she asked about reboots with the hashtag #MaxineShawEffect.
As a single black woman living in Brooklyn today, Living Single is one of the very few sitcoms that I'd actually like to see get a 2018 remix. (Mara Brock Akil's Girlfriends deserves a remake, too.) Fans of the show are anxiously awaiting the reboot, so I decided to pull these quotes and moments from the original series to show that the series is as timely as ever. Check, check, check it out.
When you're waiting for the perfect moment to spit game
When you get ghosted and have to fire up Tinder — again
When you're at happy hour, venting with your girls
When you're tired of getting your upper lip waxed
When you have to decide how to react to an image
When you're on a first date and dude starts mansplaining
When you're jaded and create a new mantra