Michael Flynn personally apologized to Mike Pence for Russian sanctions call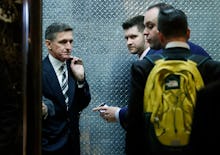 National security adviser Michael Flynn personally apologized to Vice President Mike Pence amid reports he discussed U.S. sanctions on Russia with Russian ambassador Sergey Kislyak before President Donald Trump's inauguration, USA Today reports.
The apology would seem to be a tacit admission Flynn did have the conversation about sanctions, a potential violation of the obscure Logan Act but raising significantly more substantial concerns about his loyalties. While the exact nature of the conversation is unknown, Flynn denied it ever happened — and so did fellow administration officials like Pence, who said Flynn never discussed "anything having to do with the United States' decision to expel diplomats or impose censure against Russia" in January.
The call is particularly noteworthy because of widespread allegations Russian President Vladimir Putin directly oversaw intelligence operations to hack Democrats before the Nov. 8 elections to sway them in favor of Trump, who has struck a friendly tone on the subject of U.S.-Russia relations.
The U.S. sanctions on Russia were originally proposed in the wake of Russia's annexation of Ukraine's Crimean peninsula, though other measures were put in place following revelations about the hacks.
The White House has insisted Trump has "full confidence" in Flynn, though on Monday the Associated Press reported he is still "evaluating the situation."
Bloomberg's Steven Dennis tweeted after he spoke to Rep. Devin Nunes, the chairman of the House Permanent Select Committee on Intelligence, that Nunes said he expected Flynn to retain his role and tried to turn the subject to leaks from the "swamp," Trump's campaign parlance for Washington, D.C.