'Injustice 2': Swamp Thing reveals a playable character in a new, brutal gameplay trailer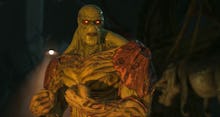 Just a few days after revealing Black Canary as a playable character in the DC Comics-based brawler Injustice 2, IGN has revealed another new character through its IGN First series: Swamp Thing.
The trailer opens with Robin walking up to him, saying that his father warned him to kill Swamp Thing should they ever run into one another. To say that Robin's plan doesn't go very smoothly is an understatement: Swamp Thing proceeds to lay a minutes-long beatdown on him as we ooh and ah at all of his fancy fighting moves.
It's pretty gross. Swamp Thing also has leaf wings, apparently? Check it out.
Injustice 2: Swamp Thing reveal trailer
More fighting game news and updates
While you wait for more Injustice 2 character reveals, read more fighting game news on Mic. Find out more about Super Smash Bros. for Switch, the Injustice 2 roster, the Tekken 7 console release date, what to expect from Marvel vs. Capcom: Infinite and the Evo 2017 lineup.