Michael Flynn just resigned as national security adviser. Here's why.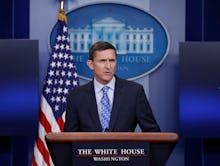 Feb. 13, 2017, 11:03 p.m.: CNN reported Michael Flynn has resigned his position as national security adviser, effective immediately. Mic's original coverage of the events preceding his resignation appears below.
National security adviser Michael Flynn is having a terrible, horrible, no good, very bad day.
Flynn, a former Army lieutenant general and Defense Intelligence Agency head, apparently fielded a phone call with Russian ambassador to the U.S. Sergey Kislyak before President Donald Trump's inauguration and used the opportunity to reassure him about U.S. sanctions on Russia.
The call was a major break from standard protocol, was possibly illegal under the obscure Logan Act and has raised questions about Flynn's loyalties.
Flynn had said the sanctions discussion never happened. But news broke Monday afternoon that Flynn had apologized to Vice President Mike Pence for allowing Pence to claim Flynn never discussed "anything having to do with the United States' decision to expel diplomats or impose censure against Russia" in January. Now, additional reports indicate the Department of Justice had warned Trump's team Flynn was a possible Russian blackmail risk, he might lose his job and there are calls for him to resign from his own party.
The issue is particularly touchy as U.S.-Russia relations have reached their lowest point in years, if not decades. Notable flashpoints have included the Russian government's decision to annex Ukraine's Crimean peninsula. Trump struck a friendly tone on U.S.-Russia relations on the campaign trail, but U.S. intelligence agencies have since accused Russian President Vladimir Putin of directing intelligence assets to leak embarrassing information about Democrats to get Trump elected.
Both the Ukrainian incident and the alleged hacks have resulted in U.S. sanctions against Russia and its leadership.
Then-acting Attorney General Sally C. Yates, an appointee of former President Barack Obama, had warned Trump's team Flynn had misled them on the nature of the call and thus put himself in a "compromising position," according to the Washington Post. Trump later fired Yates after she refused to defend his executive order banning refugees and nationals from seven Muslim-majority countries in court.
As Trump and his administration continue to send mixed signals about Flynn's future in his job — some statements say Trump has retained "full confidence" in him and while others say he was still "evaluating the situation" — Politico reported that Trump's son-in-law, Jared Kushner, is overseeing an ad hoc effort to find Flynn's replacement.
"They are trying to figure out the solution to Flynn right now," Politico reported an anonymous source close to the administration said. "The problem is they don't have it yet. They need to get a solution. You can't have a firing without an immediate replacement. You need a plan."
One leading candidate is apparently retired Gen. David Petraeus, which might sting: Petraeus once possibly ordered an investigation into how Flynn handled military secrets during the latter's tenure as an intelligence officer, before Petraeus resigned himself for furnishing classified material to his mistress.
Republicans in Congress are now turning on Flynn. Rep. Mike Coffman, a member of the House Committee on Armed Services, released a statement Monday evening saying Flynn should "step down immediately."
Other Republicans in Congress have variously seemed ambivalent about Flynn's fate, wary of the prospect of defending him or anxious about the conciliatory nature of the call, according to the Washington Post.
The position of national security adviser is not subject to approval by Congress, and Flynn and his predecessors served entirely at the whim of the president. It is thereby a job that can abruptly end with shifting political whims; Obama burned through three national security advisers during his two terms, Ronald Reagan six, and Dwight Eisenhower five.