'FIFA 17' TOTW 22 Predictions: 5 players who fit the bill for Team of the Week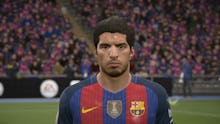 EA Sports will be announcing their FIFA 17 Team of the Week 22 on Feb. 15, and there are a few players who appear to be a perfect fit for the honor. Here are our best predictions for what to expect from FIFA 17 TOTW 22.
FIFA 17 TOTW 22 Predictions: Luis Suarez
The FC Barcelona star was on fire this past weekend. Luis Suarez scored two goals and added two assists. He's the top goal scorer in La Liga and his rating in FIFA 17 could rise as high as 95 after his latest performances. If he makes the TOTW 22, gamers who want to add him to their Ultimate Team should be prepared to pay a price upwards of 400,000 coins.
FIFA 17 TOTW 22 Predictions: Sadio Mane
Liverpool's Sadio Mane deserves consideration for most valuable player in the Premier League so far this season. His club has been playing exceptionally well this campaign and he's been one of the main reasons since returning from the Africa Cup of Nations where he represented Senegal.
Mane was doing work in that tournament as well. He scored two goals this weekend as Liverpool bested Tottenham. His rating should be in the mid-80s. His card price will rise, but it could be a steady ascension if he maintains this level of play.
FIFA 17 TOTW 22 Predictions: Javier Hernandez
Bayer's Javier "Chicharito" Hernandez won Man of the Match in a win over Eintracht Frankfurt in his last match. Chicharito scored twice and will likely see his rating rise to the mid-80s as well. It may cost around 1,500 coins to buy his card.
FIFA 17 TOTW 22 Predictions: Anthony Martial
Manchester United's dynamic 21-year-old goal-scoring machine Anthony Martial is more than making his mark in the Premier League. He scored a goal and had an assist in a 2-0 win over Watford. 
He has been worth every penny the Red Devils paid for him in a transfer from AS Monaco last season. If he scores a goal on Thursday in the Europa League against Saint-Étienne, a clause in his contract will be triggered that forces Manchester United to pay him an additional $10 million.
It won't cost you that much to add him to your Ultimate Team. About 30,000 coins should do the trick.
More sports gaming news and updates
Are you a sports gamer? Check out more content from Mic, including news on EA Sports' 2017 plans for titles like NBA Live 18 and EA Sports UFC 3. There's also details on RBI Baseball 17, and the latest patch notes on WWE 2K17's 1.06 update.